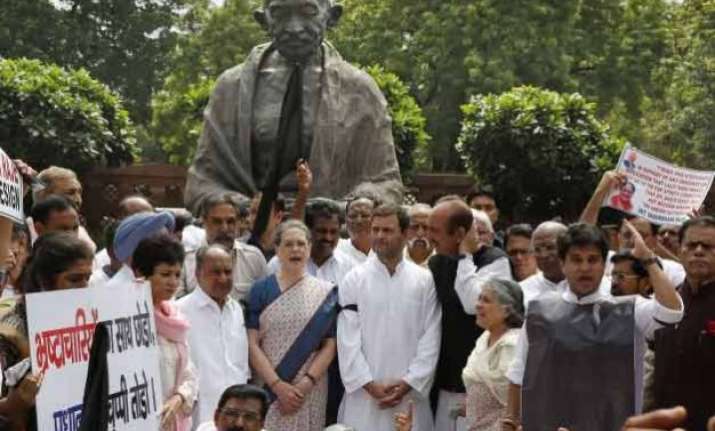 New Delhi: Stepping up the attack against the Narendra Modi government, Congress lawmakers from both Rajya Sabha & Lok Sabha will protest over suspension of the party's MPs at Gandhi statue in Parliament premises from 10:15AM to 11AM today.
The suspension of 25 Congress MPs and the resultant boycott by several parties had its echo in the Lok Sabha on Tuesday where government was under fire over  Lalitgate and Vyapam Scam.
Congress president Sonia Gandhi leading the protest with clenched fists and slogans alongside Rahul Gandhi and former PM Manmohan Singh before the Gandhi statue in Parliament.
Buoyed by the solidarity extended to the Congress dharna in Parliament premises by SP, NCP, RJD and JD(U), Rahul Gandhi on Tuesday said after the government  "ran off" after "threatening" and shouting" in the face of resistance by Congress and vowed that the party will similarly keep up pressure for resignations in Lalit Modi and Vyapam issues.
On the land issue, Congress stood in front of them. They (government) shouted, made too much noise, threatened and later made a U-turn and ran off," the Congress vice-president said, a day after BJP members in a parliamentary panel moved amendments to restore provisions of the UPA's land law.
He made the remarks while agitating with party MPs in Parliament House complex in protest against suspension of its 25 members from Lok Sabha.
The Congress MPs faced action after they did now allow the house to function demanding the resignation of external affairs minister Sushma Swaraj and Rajasthan CM Vasundhara Raje for allegedly helping Lalit Modi and Madhya Pradesh chief minister Shivraj Singh Chouhan over the Vyapam scam.