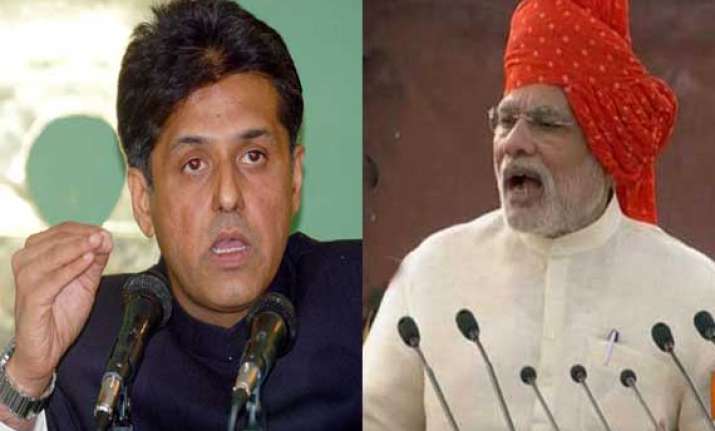 New Delhi: Congress today attacked Prime Minister Narendra Modi for delivering a "zero effect" speech and getting bogged down in "pedestrian issues" on Independence Day, saying it had "no new ideas, no new schemes, and no new initiatives".
"Given that it was the first address of the new Prime Minister one would have expected certain vision to be articulated by him on the trajectory of the next five years.  But it is unfortunate that PM got bogged down in pedestrian issues without being able to rise to the occasion," party spokesperson and former Union Minister Manish Tewari said.  
Tewari also charged that it seemed to be more an election speech than an address to the nation.
"The Prime Minister conveniently overlooked the issue of inflation that has gone through the roof in the past two months, ignored cross border incursions by Pakistan, cartographic invasion by China and was selectively amnesiac about the BJP's own track record in fanning communal passions while talking about a moratorium on communal riots.
All in all it seemed to be more an election speech than an address to the nation" Tewari added.  Party general secretary Shakeel Ahmed said Modi's maiden Independence Day address was a "zero effect" speech.
"It had nothing new. No new ideas, schemes, initiatives were announced by the Prime Minister," he said.  
Ridiculing the Prime Minister over the issue of communalism, Ahmed said that Modi should remember that the politics of the BJP are "based on communalism".  
In an apparent reference to recent incidents in some parts of the country, the Prime Minister said communalism and casteism are an obstacle in the country's progress.
"On ground level his party is instigating all riots and conflicts. The Prime Minister himself climbed the ladder through communal conflicts," Ahmed charged.  
Regarding the Prime Minister's sanitation pitch and emphasis on toilet construction, Ahmed said, "Vidya Balan is already promoting sanitation ten times a day on TV channels and it is the part of the propaganda drive of the Ministry of Sanitation set up by the UPA."
About Modi's talk of opening up bank accounts, he said, "Under MGNREA, the government had ensured that even when there were no bank branches, they could open account in post offices."