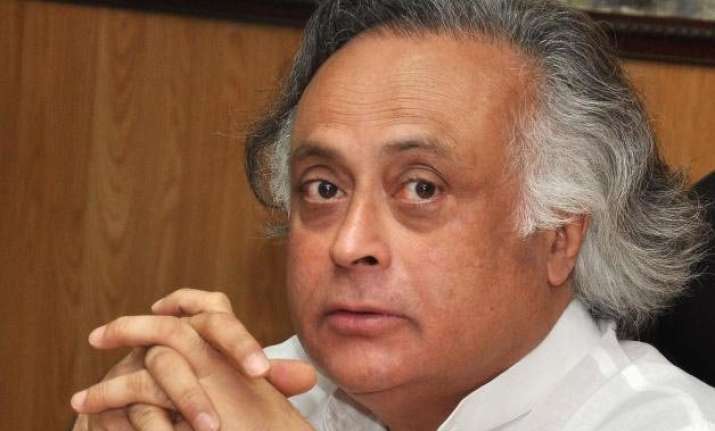 Chandigarh: Congress today made overtures to Shiromani Akali Dal, the BJP's ruling partner in Punjab, in its fight against NDA's land bill saying it should "open its eyes" and keep the politics aside in the interest of farmers.
Former Union minister and senior Congress leader Jairam Ramesh told reporters here today that several political parties including SP, BSP, CPI(M), CPI, TMC, NCP, DMK, JD(U)and NDA constituent Shiv Sena were opposing the land acquisition bill.
He alleged that the Narendra Modi-led Centre will allow "forcible" land acquisition and "lesser" compensation to farmers through this law.
"I want to request all those parties which consider themselves as champions the farmers' cause. I want to appeal to all these parties that they should open their eyes. I include Akali Dal in these parties. Although it is our political rival but in farmers' matters, we should keep politics separate.
"We should know that Modi government brought anti-farmers amendments in the Land Acquisition Bill which is grave injustice to them," Ramesh said.
Asserting that the Land Acquisition Bill will not be allowed to be passed in the Upper House, Ramesh said it will continue to oppose it in Parliament and outside.
He warned SAD leaders against being "mislead" by Narendra Modi.
"I want to request especially Akali Dal leaders that they should not believe in sweet talks over this matter. Do not get misled by Modi. As these amendments will allow forcible acquisition of land, lesser compensation to lakhs of farmers and dictatorship will rule with these amendments," he said.
He was accompanied by presidents of Punjab, Haryana and Chandigarh units of Congress Partap Singh Bajwa, Ashok Tanwar and Pardeep Chhabra respectively.
"SAD leaders till the last time were worried about changes in the land acquisition bill. But what match fixing took place I do not know," he said.
However, Ramesh said that he had talked to some of SAD MPs and told them that they were being "misled" on this issue.
The Congress leader said that he was not in contact with Punjab Chief Minister Parkash Singh Badal. "But the stand he took over the Land Bill was wrong as he was provided incorrect information on this matter," the former union rural development minister claimed.
Noting that the BJP has number to get the land acquisition bill passed in Lok Sabha, Ramesh, however, said it was impossible to get this Bill passed in Rajya Sabha.
"This bill can be passed in Lok Sabha as they have majority but in Rajya Sabha it is impossible. I know amendments pertaining to land acquisition bill cannot be passed," he said.
Ramesh said that all the political parties unanimously passed the Right to Fair Compensation and Transparency in Land Acquisition, Rehabilitation and Resettlement Bill, 2013.
To a question on joint session of Parliament, Ramesh said that it is up to the Centre to call the joint session and his party will continue to protest against the amendments.  "If a joint session is called we will present our views and we will continue to protest against it," he said.
"But before the joint session, the first speed breaker is in Rajya Sabha. As per my information, other parties such as SP, BSP, CPI(M), CPI, TMC, NCP, DMK, JD(U) are opposed to it.
"Shiv Sena is also against this bill but what will it do at the time of voting I do not know. While SAD, what will it do I cannot say," he said.
"As far as I know, these amendments cannot be passed in Rajya Sabha. Whether government would call a joint session, there is a possibility for it. Whose majority will be in the joint session, you know it that in the joint session, the government will have the majority.
"That is why we are saying that we will oppose it in Parliament and outside. This is a non-negotiable issue. What will happen during the voting, the time will tell," he said.