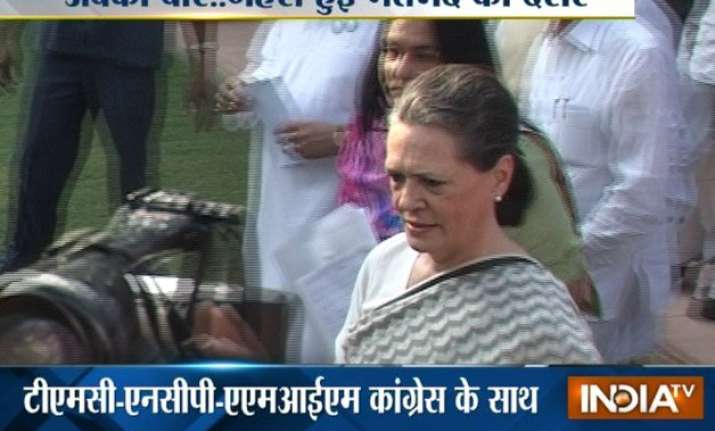 New Delhi: Congress will today protest in Parliament against the decision of Lok Sabha Speaker Sumitra Mahajan to suspend its 25 MPs for five days for 'willfully obstructing the business of the House'.
 
Congress president Sonia Gandhi and party vice-president Rahul Gandhi will join the protest.
The protest will be supported by Trinamool Congress, Nationalist Congress Party (NCP), Aam Aadmi Party (AAP), Left and other like-minded parties.
 
"Democracy has been killed today (Monday). If they feel that the Congress is isolated, it's their mistake. In fact, the premeditated move of the government has united the opposition. We have got support from the TMC, AAP, Left and NCP. Our leaders are reaching out to other like-minded parties," Congress spokesperson Gourav Gogoi said.
Gogoi also took a dig at Prime Minister Narendra Modi on the suspension of the Congress MPs.
"We will protest against the decision in Parliament on Tuesday. The form of our protest will be decided by our senior leaders. This is Gujarat model of Modi, where he used to suppress the opposition's voice," he said.
Before the Speaker announced suspension, Congress MPs carrying placards and wearing black badges were visibly struggling to carry on with the protest with many developing cracks in their vocal cords.
All protesting MPs surrounded the Speaker's podium with younger MPs such as Sushmita Dev, Gaurav Gogoi, KC Veugopal, Rajeev Satav, Deepender Hooda, Ravneet Singh 'Bittu, Ranjeet Ranjan etc keeping up their sloganeering to make up for the ones with lesser stamina.
After suspension, Sonia branded the decision 'a black day for India and democracy', amid signs that the opposition planned to escalate its fight against the BJP-led government both in and outside Parliament.
The all-party meet yesterday failed to break the Parliament logjam failing to bring peace between the treasury and opposition benches.
The Opposition has been demanding resignation of Union Minister Sushma Swaraj and Rajasthan CM Vasundhara Raje for their alleged role in securing travel documents of former IPL chief Lalit Modi in UK.
Congress-led Opposition parties have made it clear that they would not allow the House to transact business till resignation of Swaraj, Raje and also of Madhya Pradesh CM Shivraj Singh Chouhan for his role in Vyapam scam.