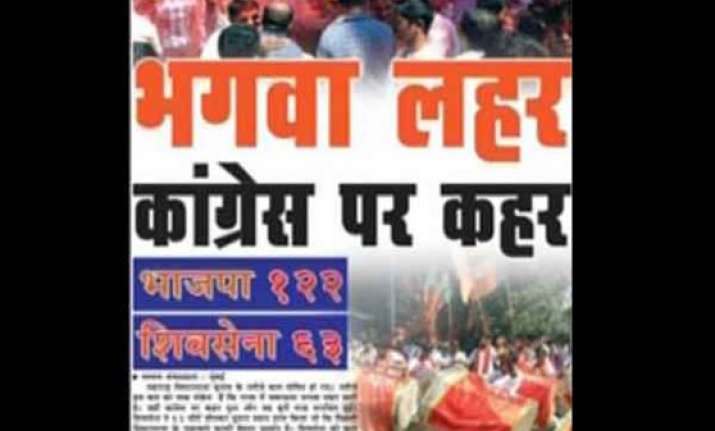 Mumbai: A day after the result of Maharashtra Assembly polls was announced, the Shiv Sena, in its mouthpiece 'Saamna' said that it was 'saffron wave' that swept the state.
The article said that the decision of the Bharatiya Janata Party (BJP), which emerged as the single largest party with 122 seats, and Shiv Sena to contest alone provided an opportunity for the Congress and the NCP to bag 42 and 41 seats respectively.
Results would have been something different if the BJP and Shiv Sena had contested together, it said.
"The Sena-BJP split benefited Congress-NCP. Given the Lok Sabha results, both these parties could not have won more than 25 seats together," it said.
The Shiv Sena had entered the fray with its key agenda of 'Hindutva' and it successfully managed to convert it into votes, it added.
The Shiv Sena will not comment on how it views the results as of now, because what is important is the view of the 'all powerful voters' who gave a fractured verdict, it further said.
"With no party getting a clear majority, there are doubts how the state will survive because of the instability," the article said.
Taking a swipe at Prime Minister Narendra Modi and the BJP, the article said, the 'wave' seen during the campaign had lost its force even before reaching the shores.
"In some places, there was more foam and less water in the wave," it quipped.
"People have not given a clear mandate to any party. Still, if people are blowing their victory trumpets, we congratulate them. We will continue to serve Maharashtra because Shiv Sena is born for that purpose only. More than our view on the post poll scenario, we would like to ask people if they are happy with the fractured verdict," the article said and lamented that Maharashtra is again being pushed into instability and anarchy.
It said Shiv Sena fought a lonely battle for strong and united Maharashtra against 'two powerful rulers'.
"BJP brought its Prime Minister and the entire Union Cabinet in the state as well as the party machinery from other states ruled by it. Despite all this, the success achieved by Shiv Sena is priceless. We thought Shiv Sena would get a clear majority based on the feedback received during the campaign," it added.
The BJP emerged as the single largest party of the state with 122 seats. Shiv Sena obtained 63 seats, a remarkable figure for the party that has been struggling with issues like lack of strong leadership in the state.
Congress and NCP, which had ruled the state for 15 years, slipped down to third and fourth position in the state assembly with 42 and 41 seats, respectively.
Raj Thackeray's Maharashtra Navnirman Sena (MNS) managed to win only one seat.