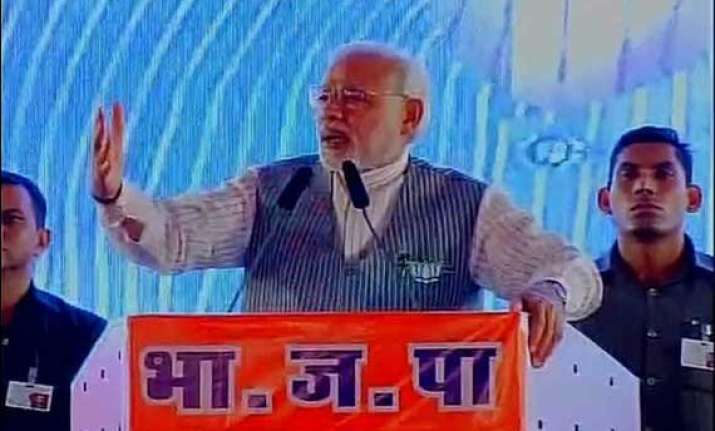 Loha/Thane: Stating that Maharashtra's progress would only be possible if the Congress-NCP's 'jugalbandi' of corruption was brought to an end, Prime Minister Narendra Modi today said that a clear majority for BJP in the Oct. 15 polls would put the state on the path of growth.
"Congress and NCP have ruled Maharashtra for 15 years.  Whenever something went wrong, they only changed their chief minister. But did it do any good to you? Have you benefited from them? They share the same gotra (origin), ideology, actions and motives," Modi told a poll rally at Loha in Nanded district.
"They (Congress and NCP) are corrupt people. This 'jugalbandi' of corruption by both the parties has to be wiped out from Maharashtra, only then the state can progress," he added.
He said people can demand an account of the work done by a government only when a single party wins elections with a clear majority.
"If you want the right to catch the government by its ear (sic) and demand an account of its work, give us (BJP) complete majority.
"People can only benefit if the next government is formed with (clear) majority. You can demand an account of the work done by the party after five years, which is not possible with a coalition government," he said.
Modi promised that if BJP comes to power in Maharashtra, the state and the Centre would work in tandem.
Expressing confidence that BJP would be voted to power in the Maharashtra, Modi said, "During the Lok Sabha elections, political pundits used to say no one knows Modi outside Gujarat. But we (NDA) hit three centuries (300-plus seats) in our first match. This time, too, the political pundits don't know the direction of the wind."
Modi kept up the attack on Congress-NCP during his public rally in Thane.
"Could anyone imagine that a state which once led the economy of our nation could be destroyed? But look at the power of the Congress and NCP, they did just that," he charged.
Referring to the remarks Maharashtra Home Minister and NCP leader RR Patil had made in 2008 in the wake of the 26/11 Mumbai attack, Modi said, "After the terror attacks, an NCP leader had said that small attacks keep happening in big cities. On the day of voting, remember these words of his and then vote. He will automatically get the answer to his comment."
Modi expressed confidence that BJP would come to power with a clear majority.
"I say this based on my political experience that we will win Maharashtra and Haryana with full majority.
"We have lost too much time. Now it is my responsibility to first make up for lost time and then move ahead with full force. Only development can solve all our problems," he said.
Modi added that one of the priorities for BJP, if it comes to power, would be to develop railways in the state as that had been "left in a dismal state by Congress and NCP".
"Our railways have the potential to become the centre of economic activity in the state. I am sitting in Delhi, give me power in Maharashtra and I will start various programmes that have been lying unused for a long time," Modi said.