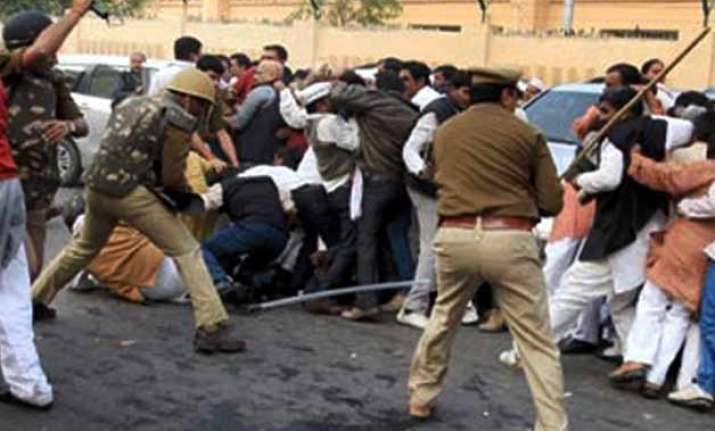 Lucknow: The Congress disrupted the ongoing assembly session on Tuesday to protest the cane charge on its leaders and workers in the state capital, forcing the speaker to adjourn it five times till 1 p.m.
Members of the opposition Congress trooped into the well of the house and raised anti-government slogans over Monday's cane charge.
Demanding a judicial probe into the cane charge that left more than a dozen people injured, Congress legislators called the Samajwadi Party government of Uttar Pradesh "dictatorial and anti-people."
Leader of the Congress Legislature Party, Pradip Mathur, said party workers were only exposing the "failures" of the state government by peaceful means.
The Congress members became angry when Parliamentary Affairs Minister Mohammad Azam Khan said none of their MLAs appeared to have been injured, adding that while they were safe innocent people were provoked and left to face the police.
He also trashed the demand for a judicial probe into the cane charge.
Speaker Mata Prasad Pandey sought the support of the leader of the opposition, Swamy Prasad Maurya, in disciplining the opposition benches but was unsuccessful.
BSP leader Maurya said the Akhilesh Yadav government was a "murderer of democracy" and refused to come to his rescue. As chaos prevailed, the speaker adjourned the house again.