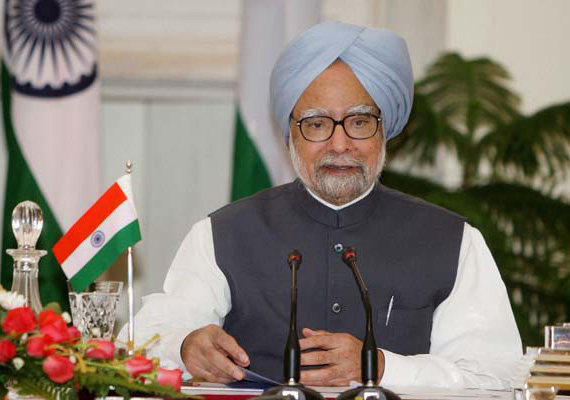 New Delhi, July 28: Congress leaders from Andhra Pradesh who do not wish to see the state bifurcated met Prime Minister Manmohan Singh Saturday and asked him to shelve the proposal for the creation of Telagana.
Members of parliament from Andhra Pradesh, resisting the move to divide the state, along with union ministers M.M. Pallam Raju, K.S. Rao, Chiranjeevi, D. Purandeshwari, K. Bapiraju and Anantarami Reddy met the prime minister and urged him to put the decision on hold.
M.M. Pallam Raju, K.S. Rao, Chiranjeevi and D. Purandeshwari are from coastal Andhra Pradesh.
The delegation seeking to avert the imminent division of the state told the prime minister that a bifurcation of the state would have repercussions across the country.
The delegation sought to impress upon the prime minister that splitting Andhra Pradesh would not be in the interest of the people or any region of the coastal state, and it would trigger similar demands in Maharashtra, Uttar Pradesh and Madhya Pradesh where there were long standing demands for similar separate states.
Meanwhile, the Bharatiya Janata Party (BJP) charged the government with not being serious about the formation of a separate Telangana.
Accusing the Congress of betraying the people who have been demanding Telangana, BJP spokesman
Prakash Javadekar
said that his party favoured a separate state of Telangana, for that alone could do justice to the people of that region.