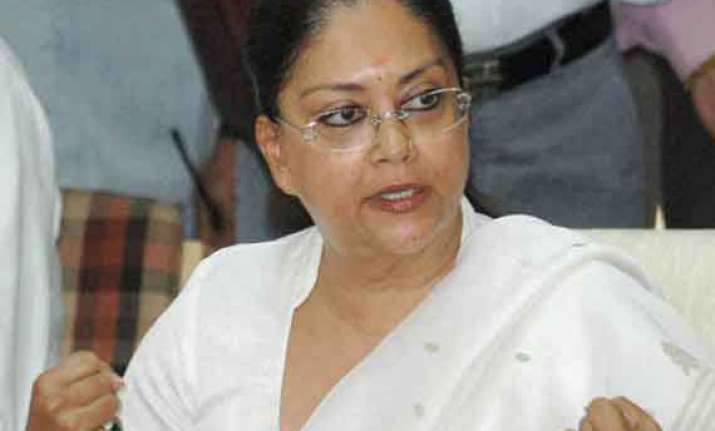 Jaipur: Congress leaders were indulging in antics like threatening to chop Narendra Modi and tearing his posters as they were flustered by his popularity, Rajasthan Chief Minister Vasundhara Raje said today.
Congress candidates are making derogatory statements and also tearing posters of Modi after loosing self control due to Modi's popularity, she said while addressing a public rally in Karauli district yesterday.
Attacking Congress over the hate speech by its Saharanpur candidate threatening to chop Narendra Modi into pieces, Raje said that elections will make it clear that who will survive or who will be chopped off.
"Saharanpur me Congress Pratyashi ne ye keh diya ki Modi ke tukde tukde kar denge, ab tukde kiske honge ye to chunav ke bad dekhne ko milega (Congress candidate from Saharanpur said that Modi will be chopped to pieces. Election would make it clear that who is cut to size or who survives the election), " she told the gathering.
She said that Congress candidate Madhusudan Mistry tore Modi's poster in Vadodara which shows that how Congress people are disturbed because of Modi's popularity. Saharanpur candidate of Congress, Imran Masood, had made the controversial statement which led to his arrest in UP.
Raje addressed the public meeting in support of the party candidate Manoj Rajoria.