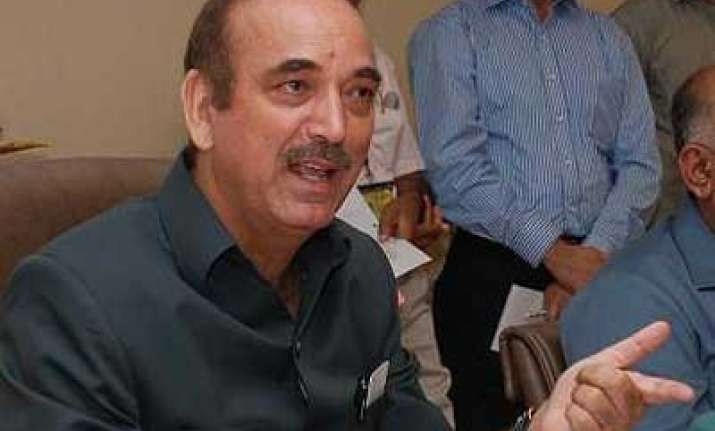 Jammu: Responding to the BJP's barb that it had done nothing in the last 60 years in this country, Congress today said that those who say nothing has happened in all these years are doing an injustice to the wisdom of the people of India.
"Those who say nothing happened in sixty years are doing an injustice to the wisdom of the people of India," Congress senior leader and the Leader of Opposition in the Rajya Sabha Ghulam Nabi Azad today said in a statement here today. 
Azad was speaking at a number of public meetings held in Srirampur, Malegaon and Pune in poll-bound Maharashtra today.  "It is the height of untruth and hypocrisy on the part of BJP and its leadership to denounce and criticise the performance of Congress party while taking full benefit of the heightened and growing stature of India at the international level," he said.
Azad said that the Prime Minister and BJP must realise that we have handed over a very strong country to them which is on the threshold of becoming a world power, and this obviously could not be achieved with mere change of guard in Delhi or in a year.
Reacting to the barbs of the Prime Minister that nothing has happened in sixty years in this country, Azad asserted that this is not only utter negation of the landmark achievements of our people but also an insult to the people of the country who have been electing Congress Party repeatedly. 
"India has been acclaimed as an emerging power by the International community, our accomplishments in space research has become a cynosure for the entire world, and yet our Prime Minister is hammer and tongs to criticise the Congress party," Azad said.
He said the "mouse" which the Prime Minister claims to be fascinated with, he must know, is in fact a contribution of Congress party and late prime minister Rajiv Gandhi, irrespective of the fact that BJP and its entire leadership were deadly opposed to computers and digital technology at the time of its introduction.