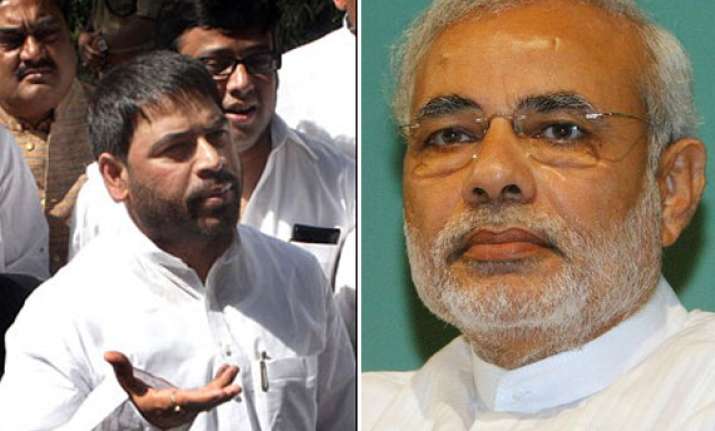 Patna: Congress today expelled RJD chief Lalu Prasad Yadav's estranged brother-in-law and Bihar Congress leader Anirudh Prasad alias Sadhu Yadav, who had met Gujarat Chief Minister Narendra Modi and said the BJP strongman has better qualities to become Prime Minister than
Rahul Gandhi.
"Yadav has been expelled from the party for indefinite period," Bihar Congress President Ashok Chaudhary told PTI.
He said the decision to expel Yadav from the party was taken by Gopalganj District Congress (DCC) President Raj Kumari Gupta after the former failed to reply to the show cause issued to him.
Chaudhary said another Congress leader Dasai Chaudhary, who had accompanied Yadav to met Narendra Modi, has also been issued show cause by Vaishali district Congress President and appropriate action would be taken by the district chief.
State Congress media in-charge Prem Chand Mishra said that Yadav, who had unsuccessfully contested from the party ticket from Bettiah Lok Sabha seat, has been shown the door for "gross indiscipline."
 Yadav, the estranged brother-in-law of Lalu Prasad had embarrassed the Congress by singing paeans to Narendra Modi and making light of Congress Vice President Rahul Gandhi.
"In comparison with Rahul Gandhi, I strongly believe that Narendra Modi has much better qualities to become Prime Minister of our country," Yadav told media after his meeting with Modi at his Gandhinagar office on Friday last.
"Narendra Modi is a powerful leader and today our country needs a powerful leader like Modi as Prime Minister," he added.
He was in a defiant mood when asked about possible action from party chairperson Sonia Gandhi in the wake of his meeting.
"Who is afraid of Sonia Gandhi? Is Sonia Gandhi running this country ? This country is being run by Manmohan Singh and tell me how many people know that Manmohan Singh is our Prime Minister. Whereas every child in our country knows Narendra Modi," Yadav claimed.