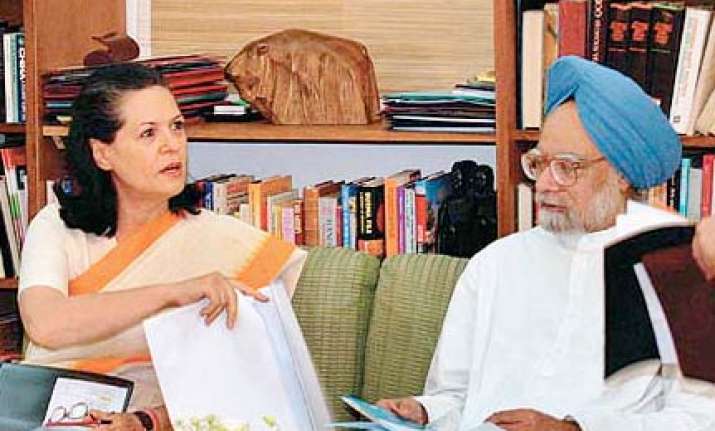 New Delhi, Oct 5 : In a balancing act, Congress today said it would welcome efforts for a negotiated settlement of the Ramjanmabhoomi-Babri Masjid dispute but made it clear that the Allahabad High Court verdict does not condone the demolition of the mosque.
The Working Committee of the party, which has now been converted into a Steering Committee, today met and discussed the issue threadbare in the wake of the verdict by the Lucknow bench of the Allahabad High Court.
"The Indian National Congress respects the judicial process with regard to the Ramjanmabhoomi-Babri Masjid title suit.  "However, we must now await the final decision of the Supreme Court as and when the appeal is filed," the party said releasing a document after a meeting of Congress Working Committee which was attended among others by Prime Minister Manmohan Singh and party President Sonia Gandhi.  
In the meanwhile, it said, the Congress welcomes efforts by the parties concerned with the legislation to find an amicable and peaceful settlement.  
Sources said there was unease in some sections of the party after the verdict. They empathise with the Muslim community in which there is some disquiet on the verdict while BJP may stand to cash on the sentiments of Hindu polarisation.
Congress General Secretary Janardan Dwivedi told reporters that while the party would welcome any initiative for a peaceful solution to the problem through negotiations, it would not take any initiative on its own.
He declined to comment on the court verdict saying the party would not like to give any "value judgement" on it. "It's a High Court judgement and everyone should respect it," he added.
The consensus in the meeting was that it was important to underline that the verdict in no way condones the demolition of the Babri Masjid on December 6, 1992 which was a "shameful and criminal act for which the perpetrators must be brought to justice".  
The party was also of the view that any distortion of the verdict by communal forces was detrimental to the larger national interest and would cause harm to the nation's mood and desire for peace and harmony.  
The CWC's response was in the backdrop of senior BJP leader L K Advani saying the court verdict vindicated his Rathyatra and that it was a case of faith upheld by law.  
Sources said that a few party members attacked Advani and SP chief Mulayam Singh Yadav for their reactions over Ayodhya verdict.  Home Minister P Chidambaram, who briefed the CWC on the issue, also touched upon how the minorities have viewed the verdict.
Apart from Gandhi, a total of eleven party leaders including R K Dhawan, Satyavrat Chaturvedi and K Keshava Rao as also Union Minister Ambika Soni participated in the deliberatons on the Ayodhya issue as well as on the situation in Kashmir.  
Party leader Rahul Gandhi, AICC General Secretaries Digvijay Singh, Ghulam Nabi Azad and Prithviraj Chavan, Defence Minister A K Antony and party veteran Arjun Singh could not make it to the meeting. While Arjun Singh is unwell, others were not present in Delhi. PTI