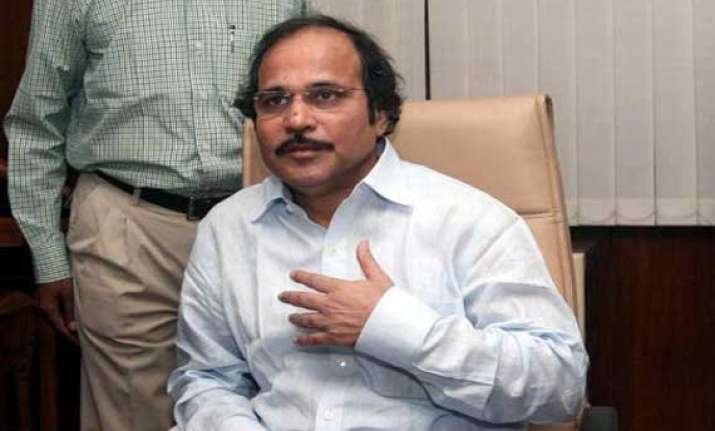 Howrah (WB): Taking a dig at the ruling Trinamool Congress in West Bengal and BJP government at the Centre, state Congress president Adhir Chowdhury today alleged that 'politics of division on communal lines' was on in the state.
"A politics of division on communal line is going on in the state on Burdwan blast issue," Chowdhury alleged while expressing concern on issues like the blast and Saradha ponzi scheme scam at a sit-in-demonstration near the state secretariat 'Nabanna' demanding, among other things, communal harmony in the state.
"Madrassas are being blamed for patronising terrorist and anti-national activities," he alleged and demanded that the Centre should pinpoint those involved in anti-national activities instead of generalising the institutes or a community.
Describing the Burdwan blast as a failure on the part of the state government, Chowdhury said "If it is not failure, then the state government must have extended its support to those involved in anti-national activities." Lambasting the Mamata Banerjee government, he said the chief minister Mamata Banerjee's objection against CBI probe in Saradha scam was nothing but to hide the involvement of Trinamool Congress leaders.
He also criticised the state government for its stand on the scam and the Burdwan blast and alleged that those involved in such activities were being encouraged by it.  Holding the government responsible for the ongoing stalemate in Jadavpur University, Chowdhury said it was nothing but direct interference in the administration of a premier institute which had jeopardised its academic atmosphere.
Chowdhury earlier led a march to 'Nabanna' and the sit-in continued for over an hour as the state Home Secretary Basudeb Banerjee refused to accept the Congress memorandum since there was no prior intimation about the programme.
As the Congress workers shouted slogans against the Mamata Banerjee government on the three issues, the home secretary agreed to accept the memorandum after a high-level meeting.  The agitation was withdrawn after it.