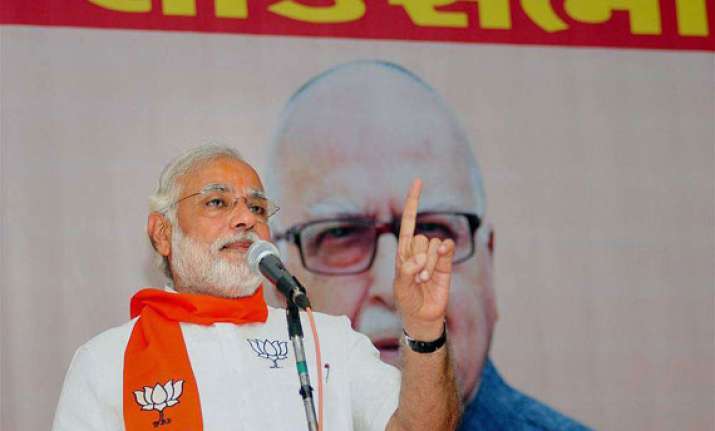 Shivpuri (MP): BJP's Prime Ministerial candidate, Narendra Modi today alleged the only agenda of Congress is to any how establish Rahul Gandhi "at the cost of the nation".
"The one-point agenda of Congress is to any how establish the son (Rahul) even at the cost of the nation. The nation is secondary only, the son's career must be safe," Modi said addressing a rally in Shivpuri which is a part of Guna Lok Sabha seat where union minister Jyotiraditya Scindia of Congress faces BJP's Jaibhan Singh Pavaiyya.
Attacking the 'shehzada' (Rahul) for allegedly mocking the Prime Minister's post, Modi said, "Nno one has insulted the chair of the PM like this one family has. It is the duty of everyone to protect the honour of the Prime Minister when he is representing the country abroad.
"Congress leaders should remember that the government is for the nation and not for any one party," said Modi.
Modi also targetted Scindia for his "arrogance" and attributed this to his "friendship" with Congress' son (Rahul).
"For the current Congress candidate, the lesser one says the better. The reason of your MP's arrogance is his friendship with the same son in Delhi. I have never seen such an arrogant man. We all are in public life but his arrogance is sky high," Modi remarked.
Citing an example of Scindia's alleged arrgance, he said as Power Minister he was supposed to present awards to different states for good performance in energy sector. However, when he came to know that Gujarat had won all the awards, he suddenly cancelled the programme and went back without giving any reason.
"A few months ago, the Power Ministry was evaluating the power companies. Award ceremony was to be there. But all of a sudden, the programme was cancelled. We wondered what happened. He got to know Gujarat has won awards, so he left," Modi alleged.
"We have a federal structure. All must work together. For the Centre, all states must be equal, no state can be treated like this," Modi said.