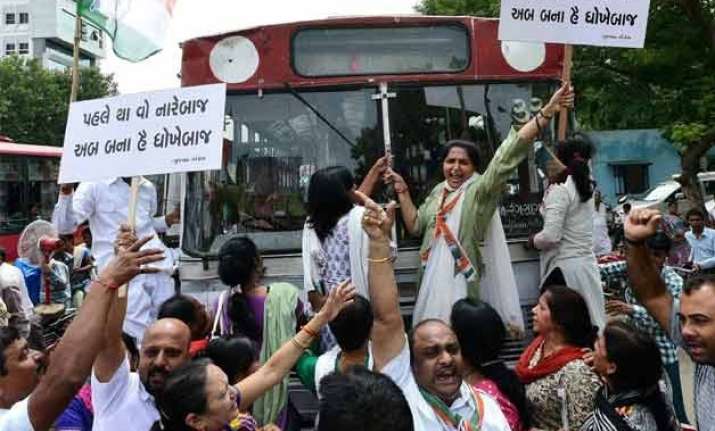 Ahmedabad:  Congress workers today staged demonstrations in various parts of Gujarat over suspension of 25 MPs of the party from Lok Sabha.
Congress leaders and workers led by city unit president Chetan Raval, gathered at Lal Darwaja area here and set afire the effigy of Prime Minister Narendra Modi as part of the protest.
"Yesterday was the black day for democracy as 25 of our MPs were suspended from Lok Sabha. This is a dictatorial approach of Modi who want to suppress the voice of people's representatives. To condemn such approach in democracy, our party have staged protest at many places across Gujarat today," said state unit Congress spokesperson Nishith Vyas.  
Speaker Sumitra Mahajan had yesterday suspended 25 out of 44 Congress MPs from Lok Sabha for five days for unruly behaviour.
Senior Congress leaders, including party's national spokesperson Shaktisinh Gohil and the Leader of Opposition in the Gujarat Assembly Shankersinh Vaghela, have termed the suspension as the "replication of Gujarat model" in silencing the opposition.
"It was an effort to tarnish the country's parliamentary tradition. What happened in Lok Sabha actually reflects the mindset of PM Narendra Modi. In Lok Sabha, Modi only replicated the Gujarat model which he had propped up through undemocratic ways," Gohil said in a press release.  
In a veiled reference to the resignation tendered by then minister of state for External Affairs Shashi Tharoor, he said, "We are witnessing yet another Gujarat model here. BJP, when in opposition, would hinder Parliamentary work till the resignation of a certain minister, against whom there was no proof, was solicited. But now, when it is in power, it is refusing to seek the resignation of its CMs, against whom there is clear enough evidence."
Vaghela alleged that opposition had been shown door in state Legislative Assembly when Modi was chief minister.  
"As soon as opposition raised their voice in Assembly, we were thrown out and suspended for entire session. The BJP-led Gujarat government never hesitated to suppress the voice of Opposition in the House," he said.  
"Our PM, who was earlier Gujarat's CM, is now doing the same experiment in the Parliament to destroy the opposition. But, it is good that all the opposition parties have come together and put the ruling party to shame for such act," Vaghela said in a press release.