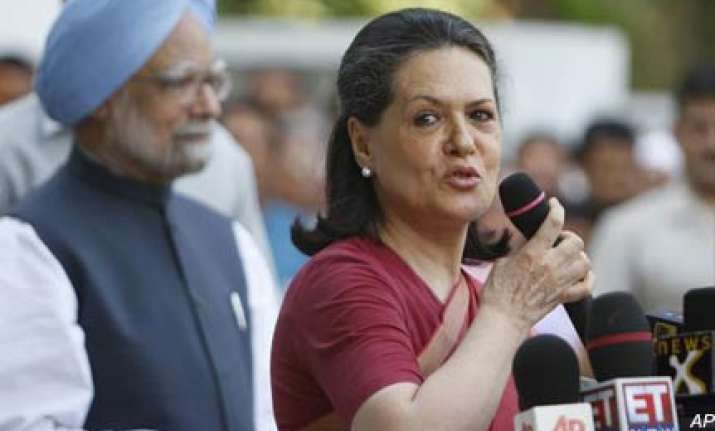 New Delhi: The top brass of the Congress, including Prime Minister Manmohan Singh and party chief Sonia Gandhi met here on Monday night amid growing pressure to go in for inclusion of caste in census. The Congress Core Group, headed by Gandhi, deliberated on the issue with the deadline for giving the party view on the ticklish issue already over.
Finance Minister Pranab Mukherjee, heading the GoM on inclusion of caste in census, earlier said almost all political parties had given their views to the GoM which would soon be meeting to deliberate on it. Sidestepping a question whether the Congress has given its views, he remarked,  "I represent the Congress. I am not out of the Congress."
This meant that the senior leader could be articulating the Congress view before the GoM.
The Group had sought views of all political parties by August 7. The main opposition BJP has already supported the inclusion of caste in census, a move being vociferously advocated by parties like SP, RJD and JD(U). The meeting of the Congress Core Group last Friday was cancelled due to absence of party president Sonia Gandhi who was in the US on a personal visit.  
There have been differences in Congress over the issue with party divided on caste lines with members from forward castes opposing the move and backward castes favouring it. The BJP, however, favoured the move despite reservations expressed by the RSS.  
In the Congress, AICC General Secretary Digvijay Singh and Law Minister M Veerappa Moily have favoured the move openly while some others expressed reservations about inclusion of caste in census.  
A view in the party is that the Congress would have to go in for inclusion of caste in census due to the circumstances given the fact that the backward classes are electorally significant.
Besides, the party strategists recall that Congress lost ground heavily in the north in the wake of the Mandal Commission report on reservation for backward classes and does not want to have a repeat. PTI