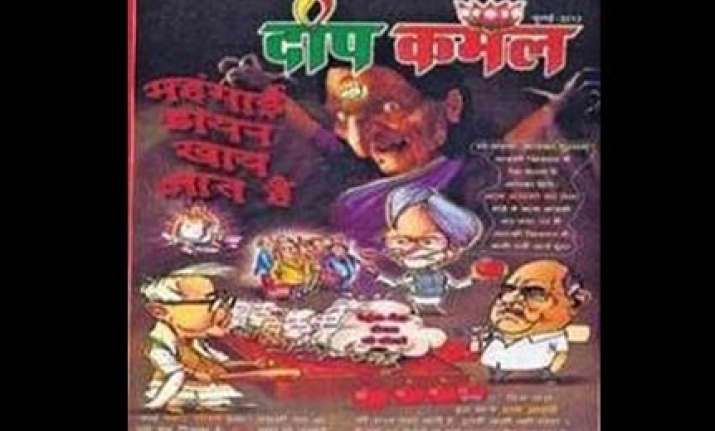 The Congress on Friday attacked BJP in Chhattisgarh for portraying its chief Sonia Gandhi as a "witch" in a cartoon on price rise, saying it has crossed the "limits of decency".
"We always say that sometimes BJP and its associated groups cross the limits of decency. If you want to criticise the government on price rise, you are welcome but making it personal and attacking individuals is shameful. This shows that more than price rise, they are interested in doing politics," Congress leader Sandeep Dixit said here.
However, BJP refused to accept that the Congress chief was portrayed as a "witch" in a cover-page cartoon published in an in-house magazine of the party in Chhattisgarh.
 "The problem with Congress is that they see Sonia Gandhi everywhere. We have not tried to show Sonia Gandhi as Mehangai Dayan (dearness witch) in the magazine," BJP vice president Mukhtar Abbas Naqvi said.
 Naqvi charged that the Congress has developed a "mindset" of finding its leaders being attacked by the BJP on every issue raised by the party.
 "If we talk about price rise, they (Congress) will say it is an attack on Sonia Gandhi. If we oppose terrorism, they will say it is an attack on Rahul Gandhi. If we oppose Naxalism, they will say it is an attack on Congress. The Congress has not been able to get out of this mindset," he charged.
Commenting on the controversy, Samajwadi Party leader Mohan Singh said, "If this (portraying of Gandhi as a witch in a cartoon) has been done, this is not correct ause she is not only a political leader but also a woman. Presenting her picture in a strange manner is unethical."
The cover-page cartoon published in the party's in-house magazine has a striking resemblance to Congress president Sonia Gandhi, portraying her as a 'daayan' or a witch. PTI