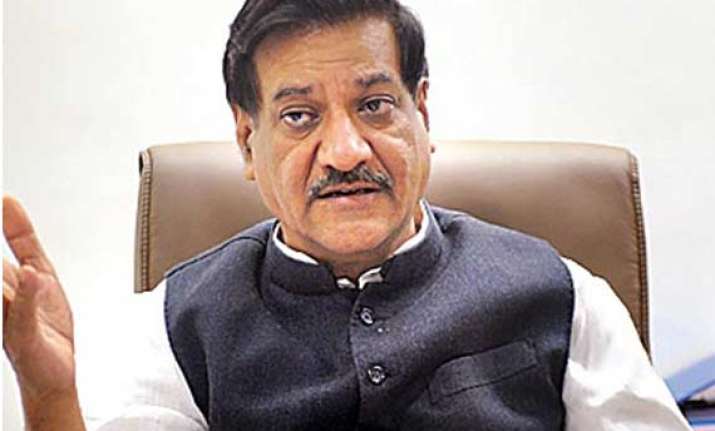 Mumbai: Confident that the Congress and the NCP will be able to sew up a "respectable" alliance for the upcoming Assembly polls in Maharashtra, Chief Minister Prithviraj Chavan today said the larger goal is not to split the secular votes to keep the communal parties at bay.  
He also sought to play down the "rebellion" within his government and hoped that senior Congress leader Narayan Rane, who recently resigned from his cabinet, will chose to "prioritise" the people of Maharashtra ahead of "personal ambitions".
Chavan, who has been a Chief Minister for the last three and half years, hit out at Shiv Sena over one of its MPs trying to force feed a fasting Muslim, saying people of the state would have to chose whether they want to hand over the government to a party which "believed more in violence and intimidation than in democratic norms".  
Talking about pre-poll alliance, Chavan, an aerospace engineer-turned-politician in an interview to PTI said, "We have a seat sharing agreement in place. We will have it this time too, but it can be based only on mutual respect and cooperation".
He said that in the end, both parties wish to work for Maharashtra, so there is no fundamental conflict.  "I am confident we will come to an agreement and fight the election together".
He stressed that the split of secular votes should be avoided.
"The whole rationale of going in for an alliance by a secular party like Congress or a supporting party like NCP, is that when we fight against each other, we divide the secular vote and communal party benefits. The whole rationale is not to divide the secular vote".
The Maharashtra Chief Minister said both parties have fought five elections in alliance with each other.  "Every time elections come, each party tries to improve its relative position by demanding a larger share of seats.  
This time also a similar thing is happening...they have publicly demanded 30 additional seats".  Chavan had said Congress will go into an alliance only if it is a respectable alliance.
"We cannot have a one-sided alliance or we cannot have an alliance where one party is humiliated. That is all I said. I never said that we would want to go alone. That option is always with either party.
But our point was that it should be a respectable alliance based on history. And it should be based on their relative performance of the two parties in the previous elections. And it should seem to be respectable," he said.
Asked if an alliance was indeed necessary to come back to power, Chavan said a new situation has developed post 2014 Lok Sabha polls.
Maintaining that they never expected a massive defeat like the one experienced in 2014 Lok Sabha elections, he said they are trying to regroup, analyse and introspect as to what went wrong, how they should change their policy, campaign style and use of technology.
"All that introspection is being done. And therefore it is difficult to explain whether we will do good by going alone or in alliance".
Chavan dismissed talk of any rebellion against him within the government or the party and said, "There may be ambitious individuals here or there but that is inevitable.  Regarding Mr Rane in particular, he is a valued member of this team.
During the last three and a half years he has served effectively as minister for industry. During that time, we have accomplished a lot.
"I am optimistic that he will choose to prioritize the people of Maharashtra ahead of personal ambition".
Talking about the Maharashtra Sadan incident involving a Muslim government employee and a Shiv Sena MP, Chavan said, the employee has "very clearly" stated in the report that his nameplate was on his chest, that he protested saying that he belonged to a Muslim community and he was keeping fast and when they tried to force feed, he protested.  
"And hence to say that they did not know that he was a Muslim person on fast, is not borne out from the video".  
Describing the whole incident as "definitely reprehensible", he talked about the rule of Shiv Sena and the BJP in Maharashtra between 1995-99.  "And we know the background of the Shiv Sena.
Since it was constituted, it has remained a party which has believed more in violence and intimidation than in democratic norms and they are continuing that style even when they have gone from state politics to national," he charged.  
"People will consider this as to whom they should handover the state in the forthcoming elections," he said.  Shrugging aside criticism from some quarters about slow decision making process under his government, he said one can either look at the quality of decisions that have been taken for the public or one can go by the number of files that have been cleared.
"The filing system is computerised and my record of file clearance has been higher than any Chief Minister since 1999," he said.
Chavan said he has always focused on policy decisions, some of which had been pushed under the carpet for years.  
"I have changed the priorities. I am focusing on policy issues and not individual cases. Yes, some individual cases might have been delayed but long avoided policy issues were taken up and decided upon.
"It has to be ongoing process. We have learnt that not only should we do it for people but also tell people the work we have done," he said.