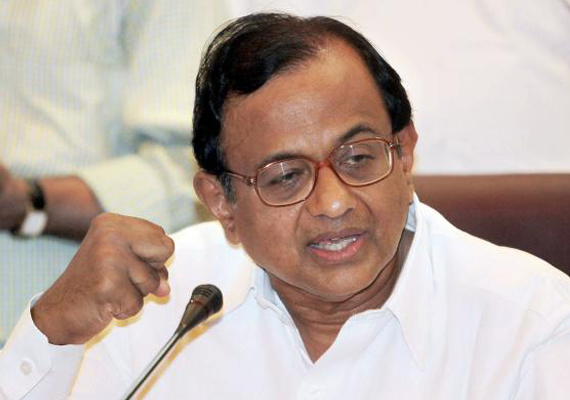 New Delhi, Aug 27: Finance Minister P Chidambaram today ruled out the need for bringing a confidence motion in Lok Sabha to end the impasse over the parliamentary deadlock over coalgate.
Addressing a press conference along with union ministers Kapil Sibal and Ambika Soni, Chidambaram said, this government enjoys the confidence of the people and there was no reason to seek a vote of confidence.
In the afternoon, there was a buzz that the government might bring a confidence motion to blunt the BJP's move to corner the government over 'coalgate'.
Chidambaram appealed to the BJP to come to parliament for a debate on the PM's statement on coal block allocations. "There is no need to convert the BJP auditorium or the PIB room here as halls of debate".
Hitting back at the BJP for targetting the prime minister over the coal scam, Chidambaram said that the opposition stalling parliament is a black spot for democracy and slap on the face of people who elect their representatives.
Chidambaram said that Prime Minister Manmohan Singh has offered to debate the coal allocation and the Bharatiya Janata Party (BJP) should accept it.
"Every day that passes without parliament meeting and transacting business is a day that adds a black spot for democracy. Not discussing in parliament is a slap on the face of people who elect us," said Chidambaram.
He said that the place to continue the debate on coal allocation is not outside the parliament but inside the parliament.
"We are always ready for debate on coal allocation. If the opposition finds fault in the prime minister's statement, please do so, but in the parliament," he said, during a media briefing (GoM Media) attended by Human Resource Development Minister Kapil Sibal and Information and Broadcasting Minister Ambika Soni.
He refuted BJP's allegation that the Congress had made a lot of money - "mota maal" - in its coal blocks allocation, and said phrases like this should be avoided.
Earlier, Congress spokesperson Manish Tewari, addressing newspersons, said the United Progressive Alliance was ready for a debate in parliament. Whether there should be voting on the debate would be decided by the business advisory committees of the two houses, he added.
He said a debate on coal blocks allocation in parliament would "expose" the Bharatiya Janata Party (BJP) and leave it with a "blackened face".
The BJP has been holding up parliament with demands for the resignation of the prime minister over the government auditor's report on losses to the exchequer.
The Comptroller and Auditor General of India (CAG) has said in its report that the lack of transparency in the allocation of coal blocks to private players had resulted in the loss of a whopping Rs.1.85 lakh crore ($37 billion) to the exchequer.