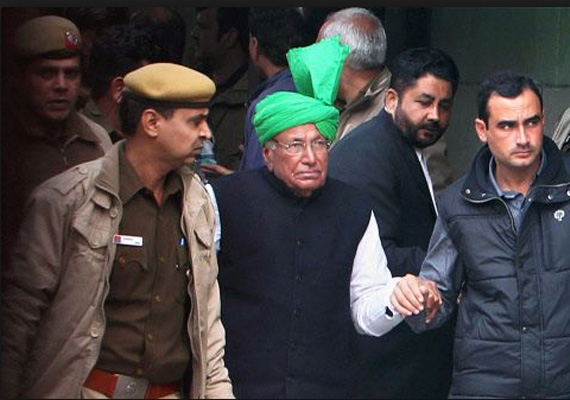 New Delhi, July 24: The Delhi High Court Tuesday extended till August 12 the interim bail of former Haryana chief minister Om Prakash Chautala, who has been sentenced to 10 years in jail for irregularities in appointment of teachers in 2000.
Justice Siddharth Mridul extended the interim bail of Chautala, 78, on medical grounds.
The court also took on record the report on his health condition from a private hospital where he was undergoing treatment.
Justice Mridul recorded the submission of counsel U.U. Lalit, appearing for Chautala, that as per the report the hospital will take a decision on his client's fitness for discharge after re-evaluating his health condition in two weeks.
Counsel for the Central Bureau of Investigation told the court that the private hospital's re-evaluation report should be examined by a medical board.
The court ordered setting up of a medical board and said that the private hospital would furnish the re-evaluation report to a medical board of All India Institute of Medical Sciences (AIIMS) by July 28.
It also asked AIIMS to file its report before the court by Aug 12.
The chief of Indian National Lok Dal had moved a plea for extension of his interim bail earlier granted till July 22.
He said his pacemaker implant procedure was done June 3, and the doctor advised regular check-ups for three months.
"He continues to be in a fragile state of health, besides being severely handicapped by various disabilities. He requires constant extra care during the period of three months and regular follow-up. He also needs a clean, stress-free environment," the plea said.
Apart from the heart ailment, Chautala also suffers from other age-related problems.
A trial court in the capital sentenced Chautala, his son Ajay and eight others to 10 years in jail. One convict was sentenced to five years in jail, while 45 others were each handed out four-year jail terms.
Chautala and the other accused were found guilty of illegally recruiting 3,206 junior basic trained teachers in Haryana in 2000.