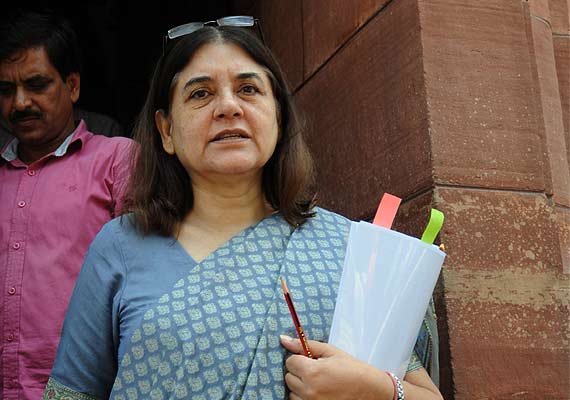 New Delhi: In tackling female foeticide, Union Women and Child Development Minister Maneka Gandhi believes changing people's mindset in an incentive-based way is more pertinent than bringing in stern laws.
Gandhi said that the Government's Beti Bachao Beti Padhao (BBBP) scheme will be based on a strong system of incentives and media advocacy in bringing about an all-round change in attitudes.
The scheme, the Minister said, has to be "incentive-based" and not a "gynaecologist-attack" scheme, unlike what the previous government focused on.
On strengthening the Pre-Conception and Pre-Natal Diagnostic Techniques Act (PCPNDT) 2003, Gandhi said, "It is not under me, it is under Health Ministry...and even if you strengthen PCPNDT Act, how many arrests will you make? You have to do it through changing the midset, in an incentive-based way."
The programme started by the previous Congress government, she said, picked on gynaecologists.
"Everybody measured its success on the number of gynaecologists being put in jail. This is not a gynaecologist-attack programme," the Minister said. 
Talking further about Prime Minister Narendra Modi's pet project, the BBBP scheme, she said that work had begun in 25 districts and it will start in 75 districts in the month of November itself.
She said that the scheme has been started based on pregnancy registrations. "Everybody who is pregnant has to get herself registered and this responsibility has been given to Aanganwadis and the Ashas.
Each district commissioner is the monitoring head for that," said Gandhi as she officially released documentary film "After My Garden Grows", directed by the famous Oscar-winning Director Miss Megan Mylan here today.  
The film, which is based on West Bengal and highlights the role of 'Sabla' programme and Aanganwadis to empower the Indian girl child, will be made a part of the WCD Ministry's media van toolkits for the 100 priority districts with low child sex ratio under the BBBP scheme.  
Mylan said that she has directed this film because she strongly feels towards the girl child of India and the various issues they face on a daily basis.
"It is an earnest tribute to all the Indian women who have shown tremendous courage and confidence to earn respect and livelihood against all odds.
"One's job is not over after the film is made, so I wanted to ensure that it reaches out to the people. We hence contacted the Ministry which agreed to make it a part of their ongoing project," Mylan said.