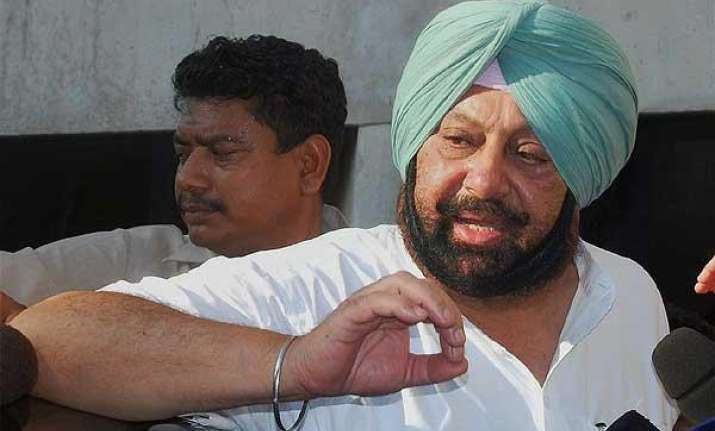 New Delhi, Apr 15: A churning is on in Punjab Congress after the party's shock defeat in the state assembly elections with PCC chief Capt Amarinder Singh coming under sharp attack from within for the poll debacle.
With the party still analysing the reasons for its defeat, demands are growing for a change in the state leadership and a revamp to prepare itself for the 2014 Lok Sabha polls to take on the Akali-BJP combine.
This has led to an open slug-fest between Amarinder's supporters and his detractors. While party leaders are openly airing their differences in public despite a gag-order by the high command, workers are feeling disillusioned.
In view of the successive defeat in the state, Congress general secretary and in-charge of Punjab affairs Gulchain Singh Charak has in his report also stressed on the need for a revamp. "There is a need for a revamp...But there is no rebellion in the party in Punjab. All leaders will talk on the party platform," Charak told PTI.
While a number of senior leaders have already individually met the three-member Committee headed by Defence Minister A K Antony and given their opinion on the party's defeat, many other state leaders opposed to Amarinder Singh are seeking time to appear before the panel to air their grievances.
With the Antony panel likely to submit its report to AICC chief by the end of April, many Punjab leaders are getting uneasy and are keen on meeting the panel before that happens. While Delhi Chief Minister Sheila Dikshit is busy in the civic polls, Shinde is abroad for a few days and Parliament session is starting from April 24.
Party president Sonia Gandhi had formed the Antony Committee, which has Dikshit and Power Minister Sushil Kumar Shinde as its other members, to analyse the reasons of Congress' poor performance in the state assembly polls.
While Amarinder's detractors feel the change in leadership in Punjab Congress is imminent now after two successive defeats under his reign, his supporters claim there is none of his stature who can lead the party in such a situation.
His detractors point out that there is no alternative left to the party high command but bring in a major revamp in state Congress before the 2014 general elections.
"The party needs to really pull up its socks in Punjab. The command should be handed over to a young and dynamic leader who can take on the Akalis every single day on the streets. Amarinder has had a long innings of 15 years now," a senior state Congress leader said.
As leaders seeking changes in Congress set-up in the state refused to come on record, they warned of party losing further ground in case the high command did not take immediate remedial measures which include a major overhaul in order to infuse strength in Congress' rank and file.
Partymen, however, admit that after airing their views they would leave it to the high command to take a call in the interest of the party.
With infighting leaving Congress in disarray, the Akali- BJP combine is set to gain in the forthcoming civic polls.
"Instead of targeting our own party leadership we must take on the government to defend our workers," a few MLAs said in a joint statement in Chandigarh.
They said the high command's decision should be acceptable to everyone as a "weakened organisation was already seeing harassment" of party workers at the hands of ruling Akali-BJP alliance amid allegations of vendetta and victimisation.
The Punjab Congress could win only 46 seats in the 117-member assembly, failing to wrest power from SAD-BJP combine, while their vote share declined from 40.70 per cent in 2007 to 40.11 per cent this time.