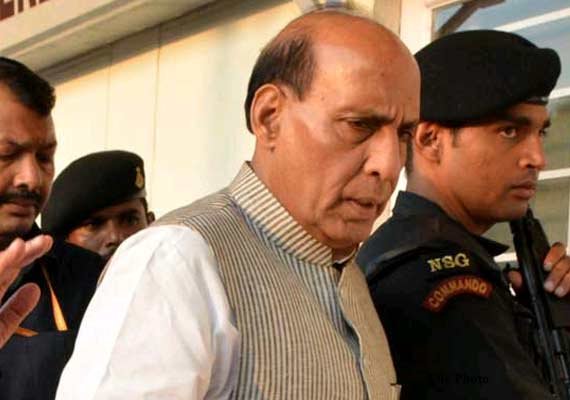 Guwahati: As fresh incidents of violence in Assam broke out, the Centre today promised a "time-bound" action against the Bodo group which carried out the massacre of tribals, ruling out talks with the insurgent outfit, and also announced a NIA probe into the attack.
The death toll in the carnage and retaliatory violence by tribals rose to 78, Police said.
Calling the carnage on Tuesday as a "terror act", Union Home Minister Rajnath Singh said the Indian government had received assurance of cooperation from "one of the premiers" of Bhutan and Myanmar for flushing out terrorists from their territories.
Singh said External Affairs Minister Sushma Swaraj informed him of this development this morning.
The Home Minister was speaking to reporters here after visiting the affected Sonitpur and Kokrajhar districts.
Ruling out any talks with the NDFB(S), Singh said, "there will be no dialogue with such organisation. Only action will follow. There will be time-bound action, we don't want to drag it. I have asked the state to directly start operations".
He also assured the Assam government of Army's assistance, if necessary, in its crackdown on militant organisations in the state.
"I have spoken to the Assam CM and we have decided to investigate the entire incident by the NIA. We want to see the links of such groups. We want to know with whom they have connections," he said.
He said that the government took the attacks by National Democratic Front of Bodoland(Songbijit faction) "very seriously".
"We cannot overlook it as a simple militant act. It is an act of terror. Both state and central governments will deal with it the way terrorism is dealt with," he said.
The Home Minister earlier told reporters at Biswanath Chariali in Sonitpur district during his visit, "We will take strong measures to deal with the outfit and will control it effectively. "
"The Centre has adopted a zero-tolerance policy against all acts of terror and the similar policy will be adopted in this case too," he said.
In the Gossaigaon area of Kokrajhar district, several houses of Bodos were set ablaze by adivasis early in the morning despite an indefinite curfew clamped in the entire district, a police official said.
Sonitpur district bore the brunt of the massacre where six more bodies were found this morning from Maitalu Basti under Zinzia police station bordering Arunachal Pradesh, taking the toll to 43.
Three adivasis were killed in police firing on protesters yesterday to take the total number of dead in Sonitpur district to 46.
In Kokrajhar, the other affected district, retaliatory violence by adivasis claimed the lives of four Bodos at Manikpur and Dimapur areas taking the death toll including in the Bodo carnage to 29. Three people were also killed in Chirang district.