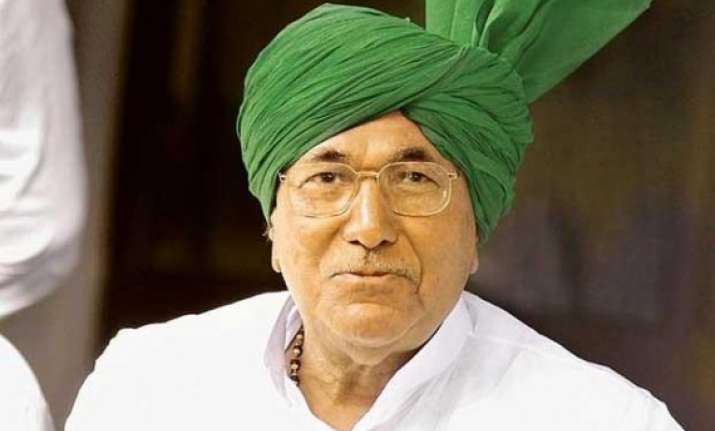 New Delhi: CBI has requested the Delhi High Court for an urgent hearing tomorrow on its plea seeking immediate cancellation of bail to former Haryana Chief Minister Om Prakash Chautala over alleged violation of conditions.
CBI sources said the plea, which was moved last night, had made a special mention for an urgent hearing for cancellation of bail to Chautala, who was granted the relief on medical grounds in May this year. The former Chief Minister had been participating in election rallies in Haryana which goes to polls on October 15.
The 79-year-old Indian National Lok Dal chief was convicted and sentenced to 10 years in jail in a teachers' recruitment scam case last year and was granted bail to undergo medical treatment.
Following repeated violations of bail conditions, which were brought to the notice of court by CBI, Chautala had volunteered on September 26 that he would surrender after which he was directed to surrender on October 17.  
The CBI requested the High Court for an early hearing and in view of holidays in the court, the matter is likely to be listed before a vacation bench tomorrow, the sources said.  Four-time Haryana chief minister Chautala volunteered to surrender as the court was about to order the constitution of a medical board of AIIMS doctors to consider the necessity of keeping Chautala hospitalised.
CBI has informed the court that Chautala addressed a rally at Jind in Haryana on September 25, the sources said.  In its petition, CBI has prayed for immediate cancellation of bail of Chautala and sought his return to jail.
 
Delhi High Court had on Friday issued a notice to CBI on a petition seeking immediate cancellation of Chautala's bail on the grounds that he would "misuse the grace period of 17 days given to him to surrender" by taking part in campaigning.  A special CBI court on January 22, 2013, had convicted and sentenced Chautala, his son Ajay and eight others to 10 years in jail for their role in the illegal recruitment of 3,206 junior teachers in 2000.
Among the others convicted in the case, 44 were sentenced to four years in jail while one was handed a five-year prison term. All of them were found guilty of cheating, forgery, using fake documents and conspiracy under IPC and of abusing their official position under the Prevention of Corruption Act.
Chautala was chief minister for six months between 1980 and 1990, five days in July 1990 and for 14 days in 1991.  Finally, he had a complete five-year tenure starting in 1999.