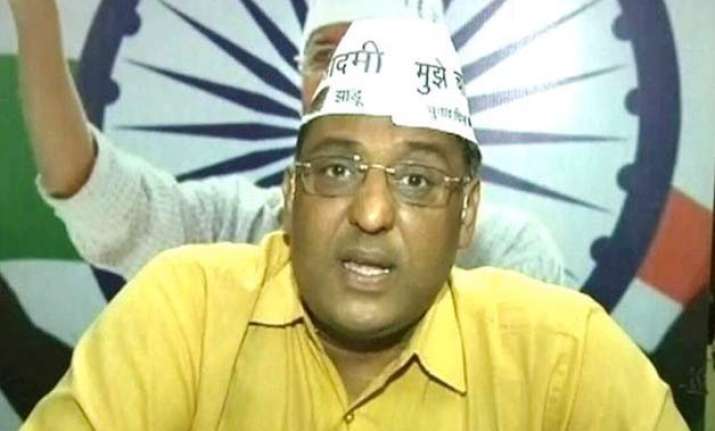 New Delhi: A former AAP MLA today alleged that calls, with Arvind Kejriwal's "consent", were made to several party MLAs impersonating officials from Union Ministers Arun Jaitley and Nitin Gadkari's office and offering them crores of rupees to support BJP, prompting the saffron party to demand a public apology from Delhi Chief Minister.  
Former Rohini MLA Rajesh Garg, who was recently suspended from AAP for anti-party activities, claimed that police had arrested a person based on his complaint over the issue but the party's intervention had led to that person's release.  "During initial phase of government formation, I got calls from someone who claimed to be calling from Arun Jaitley's office offering Rs 10 crore to support BJP.  
"I took a screen shot of the number and lodged a police complaint who arrested a person. Then I got a call from (AAP leader) Sanjay Singh asking me to withdraw the complaint. I didn't withdraw, but they managed to get him released," he alleged, adding that the calls were made from private and unknown numbers.
BJP also sought a public explanation from Kejriwal, who has been silent on the spate of 'sting exposes' on him purportedly showing that he had tried to keep a tab on its own MLAs while misusing the name of BJP.  
BJP leader Shazia Ilmi, formerly of AAP, said that Kejriwal owes an apology to Jaitley for attempting to "defame" him by concocting tales of horse trading.  "The dirty tricks deptt thrives. Aap shd be renamed as DIRTY tricks deptt party specializing in mercenary assignments of character assassination and self aggrandizement," she tweeted.
Seeking to play down the issue, AAP's Delhi secretary Dilip Pandey refused to comment on Garg's allegations, saying "he's not even in the party", while few other senior leaders feigned ignorance about the issue.
"Kejriwal used to talk of morality and honesty. He is practising just the opposite of what he preached to others. He should come clean on whatever is going on in his party and the allegations against him made through stings done by his own party men," BJP national secretary Shrikant Sharma said.  
Garg also claimed that several other AAP MLAs had also raised the issue of getting fake calls from Jaitley and Gadkari's office at a meeting of party legislators.