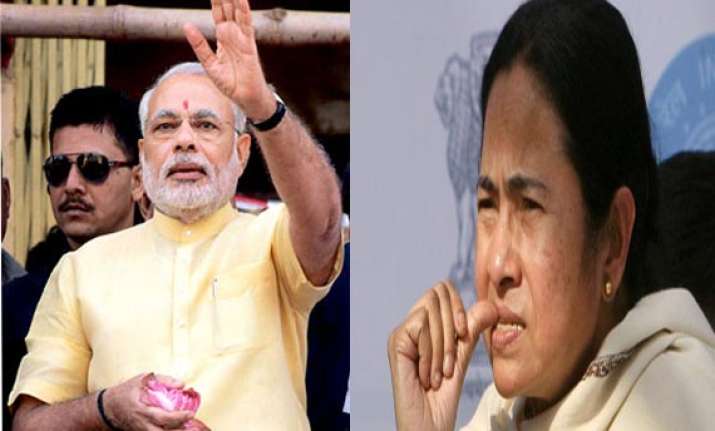 New Delhi, Jun 5: Gujarat chief minister Narendra Modi led his party BJP to a clean sweep in two Lok Sabha and four Assembly byelections, wresting all the seats from Congress, while in Bihar, chief minister Nitish Kumar suffered a major setback, when his party JD-U lost the Maharajganj Lok Sabha by-poll to Lalu Prasad's Rashtriya Janata Dal.
West Bengal chief minister Mamata Banerjee's Trinamool Congress managed to retain the Howrah Lok Sabha seat with a reduced margin of  over 27,000 votes in the face of a stiff challenge from CPI(M).
While Modi described his party's sweeping victory as "an ultimatum to the Congress", Lalu Prasad in Patna described it as the beginning of countdown for Nitish's downfall in Bihar.
RJD's Prabhunath Singh trounced the JD(U) candidate P K Shahi by a huge margin of 1,34,000 votes, while in neighbouring West Bengal's Howrah Lok Sabha constituency, Trinamool Congress candidate footballer Prasun Banerjee won defeating his CPI-M rival.
In Gujarat, BJP led by Narendra Modi made a clean sweep, bagging both the Lok Sabha seats of Porbandar and Banaskantha from Congress, and winning four other Assembly seats in the bargain.
The Banaskantha Lok Sabha seat was wrested from Congress by BJP's Haribhai Chaudhary defeating Krishnaben Gadhavi by a margin of 71,977 votes.
The Porbandar Lok Sabha seat was also wrested from Congress by BJP's Vitthal Radadiya defeating Vinoo Amipara by a huge margin of 1,42,215 votes.
In Yawatmal, Maharashtra, Nandini Nilesh Parvekar of Congress defeated her BJP rival by 26,817 votes.