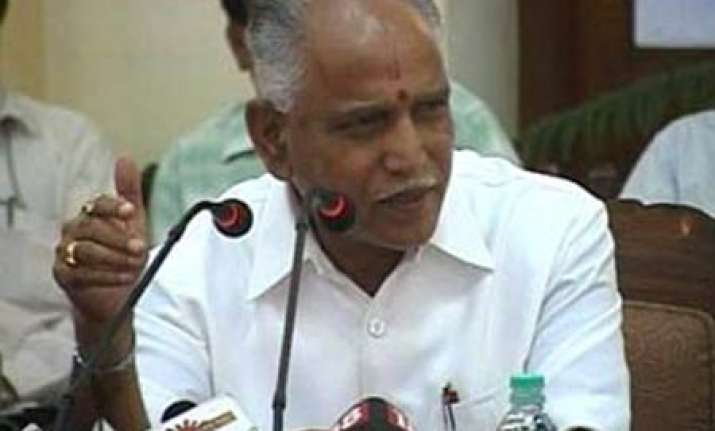 New Delhi, Nov 23 : After striking a defiant note for days, Karnataka Chief Minister B S Yeddyurappa today said he would abide by the decision of the BJP high command on him."Whatever decision our national leaders are going to take about me, I am going to obey their orders," he told reporters here this morning.
"Today, I am going to meet all our national leaders and I am going to explain the situation in Karnataka, We are facing Zila panchayat elections within a month," he said.
Asked if he would step down, the chief minister said, "I have not committed any mistake. I will meet the central leaders. Whatever they say, I will obey. But so far no body has asked my resignation".The chief minister said he had discussed the "political situation" in Karnataka with senior leader
Arun Jaitley
and would meet other central leaders today.
Yeddyurappa is likely to meet BJP leader
Nitin Gadkari
later in the afternoon to discuss the crisis.
He maintained that the central leadership has not asked him to step down, adding that he had ordered an inquiry into the alleged land scams by a retired high court judge Justice B Patmaraj.Yeddyurappa, who is claiming to have the support of 110-120 MLAs, said all community people were supporting him.
Top party leaders, including L K Advani, M M Joshi and Rajnath Singh are understood to have decided that the Chief Minister's continuance has become untenable and that he should be told to make way. The Chief Minister has, however, kept the party guessing on his moves.
Yeddyurappa has reportedly told the party leadership that his removal might harm the first-ever BJP government in the South, for whose formation he had played a key part.
Asked if he was "blackmailing" the central BJP leadership because he was a Lingayat leader, Yeddyurappa said,"All communities are supporting me because we have 110 seats
in the House. This type of communal thinking was never in my mind".On what would be his response in case his party asked him to resign, he shot back saying, "I will not answer such questions because they have not asked me to step down." PTI