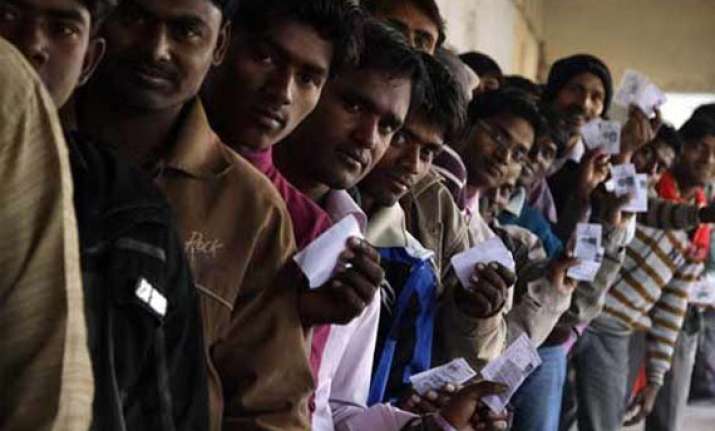 Ranchi: About 16.32 per cent turnout was recorded in the first two hours in 20 Jharkhand Assembly constituencies across seven Maoist-hit districts where polling was underway today in the second phase.
Brisk polling was being reported from many places, an Election Commission official said.
"Long queues can be seen at several booths," he said.
Barring the replacement of a defective EVM at one of the booths in the Jaganathpur assembly constituency, polling was going on smoothly and peacefully, the official said.
Amid tight security, polling began at 7 AM in all the 20 constituencies.
While voting will end at 3 PM in 18 constituencies, it will continue upto 5 PM  at Jamshedpur (West) and Jamshedpur (East) seats, the official said.
A total of 44,31,900 voters, including 21,72,982 women, are eligible to cast their franchise in 5,048 polling stations. 223 candidates, including 35 women, are in the fray.  
The EC has deployed 20 general observers, 10 expenditure observers, two police observers, two awareness observers and 512 micro observers for this phase of polling.  
A total 349 polling stations have been selected for webcasting across the 20 constituencies.  Besides former chief ministers Arjun Munda (Kharsawan) and Madhu Koda (Majhgaon), former deputy chief minister Raghubar Das who is currently the national vice president of BJP (Jamshedpur East), three state ministers including Banna Gupta (Jamshedpur-West), Geetashree Oraon (Sisai), Champai Soren (Seraikella) and several sitting and former MLAs are trying their luck.
First phase polling was held in 13 Maoist-affected seats of the state on November 25 last which witnessed a turnout of 62 per cent. Five-stage elections are being held to the 81-member Jharkhand assembly. This is the third Assembly election in Jharkhand which was carved out of Bihar in 2000.