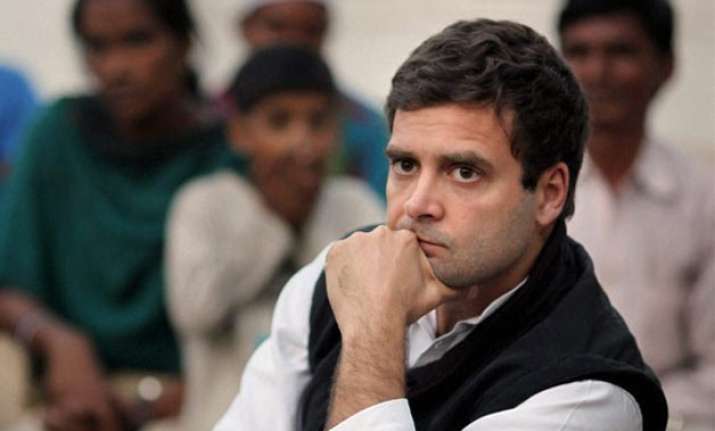 Mumbai: Congress Vice-President Rahul Gandhi's appeal to quash the complaint against him in a case of alleged hate speech against the Rashtriya Swayamsevak Sangh (RSS) has been dismissed by the Bombay High Court on Tuesday.
Justice M L Tahaliyani rejected Rahul's petition seeking to quash the complaint filed by RSS activist Rajesh Kunte before a magisterial court in Bhiwandi in Thane district claiming that the Congress leader had said at a rally during last year's Lok Sabha poll that a worker of the saffron outfit had killed Mahatma Gandhi.
Rahul had earlier managed to get HC's reprieve of being exempted from personally appearing in the defamation case filed by RSS member Rajesh Kunte. But Justice M L Tahaliyani refused to grant any relaxation to the politician saying it was prerogative of the Magistrate court.
Also Read: Rahul Gandhi wishes speedy recovery to Mulayam Yadav
"Make application for exemption before the Magistrate. It is not proper for me to say something at this stage," said Justice Tahaliyani clarifying the relief was given during the pendency of the petition.
During the campaign for Lok Sabha elections in March last year, Rahul visited a village in Bhiwandi Taluka of Thane district located 20 kilometres north-east of Mumbai where he allegedly stated that members of RSS had assassinated Mahatma Gandhi.
According to the petition filed by Rahul through his lawyers, senior counsel Rajinder Singh Cheema and advocate Tarannum Cheema, summons were issued by a Bhiwandi magistrate court on July 11, 2014 to face prosecution under Section 500 (defamation).
Kunte's complaint gives a portion of Rahul's specch in which he allegedly says, "RSS ke logon ne Gandhiji ko goli maari aur unke log Gandhiji ki baat karte hai. Sardar Patel, Sardar Patel Congress party ke neta the unhone RSS ke bare me saaf suthra likha hai, unke sangathan ke bare me bahut saaf suthra likha hai."
Rahul in his petition says he did mention the RSS in the course of his speech at one place though the RSS was not contesting the election as a political party. "A careful reading of the relevant part of his speech indicates that as per the petitioner, the assassination of Mahatama Gandhi was a result of destructive philosophy of the persons associated with the RSS. It was also clearly suggested that the assassins were associated or affiliated with the RSS. He never accused RSS as an institution of the crime," the petition argues.
The petition by Rahul claimed the RSS was providing "logistical support" to the BJP in the elections and yet officially did not participate in the elections at all. The petition argues that divisive politics was being brought to the forefront during the elections and Rahul was required to forewarn the voters about the dangers of sectarian populist ideology.
"It was not the object of the petitioner to attack the RSS as such," while requesting to the Court for quashing and setting aside the complaint and the summons