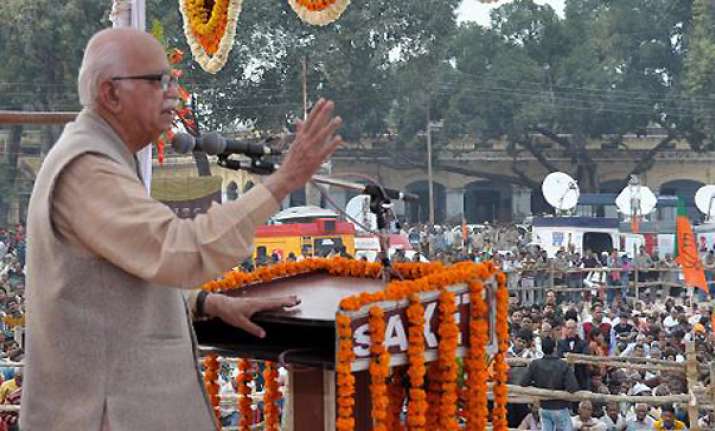 Jhansi, Feb 16: Raking up the party's core issue of construction of a Ram temple, BJP leader L K Advani today said the party was moving ahead with the concept of establishing a 'Ram Rajya' along with the temple at Ayodhya.

"The objective is to construct a temple, besides also to establish an ideal state conceptualised in the name of Lord Ram," Advani said while addressing an election rally here.

Advani said that it was the wish of all the countrymen that a grand Ram temple is constructed at Ayodhya.

Recalling his Ayodhya rath yatra in 1990s, he said that he could never forget it as it taught him the importance of yatras.

"At that time I was not allowed to reach Ayodhya and was got arrested by the then Bihar Chief Minister in Samastipur, but situation has changed with the time," he said.

The BJP leader said that at that time one CM stopped his yatra and last year another CM of the same state flagged off his yatra against price rise, corruption and blackmoney.

He said that a three-judges bench of Allahabad High Court gave unanimous verdict that the place where idols were kept was considered to be the Ram Janmsthan by Hindu community of the country.

"I cannot say anything more as an appeal has been made in the apex court and it is yet to give its decision," he said.

Attacking the UPA government, Advani said that it had never happened in the history of the country that such a large number of ministers were removed and jailed.

"Since 1952, when the first polls were held, I have seen all the 15 general elections. I have also seen all the governments from Pandit Nehru upto Manmohan Singh, but there was not a single government in which so many ministers have been removed and even jailed," he said.

Talking about the proposed Communal Violence Bill, the BJP leader alleged under it if communal riot or any similar incidents happen then majority community will be considered as criminals.

Advani said that there were discussions that Congress may forge an alliance with Mayawati or Mulayam Singh Yadav after the UP polls, but BJP would not shake hands with anyone and would serve people on its own.

Playing card of smaller states, Advani said that it was during the regime of NDA that Chattisgarh, Uttrakhand and Jharkhand were carved out.

When I said in Parliament that Rs 25 lakh crore blackmoney was deposited in Swiss banks, government spokesman said that it was not right, Advani said.

"Now the IB director quoted the same figure in an international conference....the Finance Minister has also assured to bring a white paper on blackmeony in the next session," he said.

He also said that it was sad that an adjective of BIMARU was still attached with Uttar Pradesh.

"Bihar and MP have come out of this tag...and our target is that UP should also come out of it," he said.

Advani said that he used to visualise that by 20th century the country would make such a progress that it would stand in the line with leading nations.

"But that progress did not take place...poverty, illiteracy and backwardness are still there," he said.