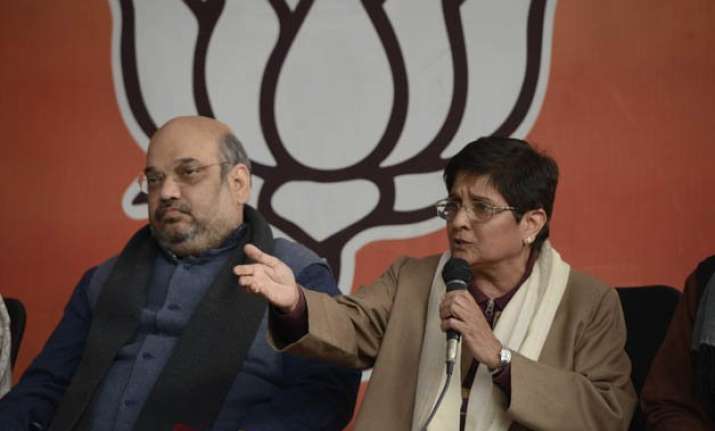 New Delhi: Kiran Bedi, the first IPS officer of India, having joined BJP on Thursday has already turned tables in Delhi poll. Speculation is rife that BJP might project her as a candidate for Chief Minister's post.
After declaring that she would contest the assembly elections, BJP chief Amit Shah said that the party would meet shortly if she would be declared as the CM candidate.
He said, "The parliamentary board will take a call on who will be CM and all BJP leaders could be considered by the board including Bedi who has now joined the party."
Before this, BJP was rather expected to follow the party's common strategy used in other Assembly elections of Haryana and Jharkhand to not to declare the CM face beforehand.
However, while in an effusive praise-mode for Bedi, Shah threw a hint that she could be the CM face by saying, "Kiran Bedi's constructive contribution will play an important role in ensuring that BJP lives up to the expectation of the people in the election and in any future government."
Even Finance Minsiter Arun Jaitley also spoke in the same parlance, "She has experience in governance and enjoys a credible image. She is associated with certain values.
She has been a crusader in government as well as outside it for a long time," he said.
When Bedi took the opportunity to speak, her speech sounded more of acceptance. She talked about making Delhi a better place.
The former IPS officer showed gratitude for having been given an opportunity for joining BJP.
She also mentioned about Prime Minister Narendra Modi to be her inspiration to take this initiative.
Undoubtedly, she is at par with AAP's Arvind Kejriwal. The credentials of both of them match quite well. The former top cop is also a Magsasay award winner apart from holding 'Anti-corruption campaigns' with Anna Hazare and engaging in social causes.
She being the CM face, can outweigh Kejriwal's stronghold in Delhi quite well. She had earlier split with Kejriwal over the formation of AAP due to difference of opinions between the two.
Though BJP did not clearly mention that she will be the CM candidate for the party however, her exuberated confidence and words spoke quite a lot.
She said, "I have 40 years of experience in administration serving in Delhi, Mizoram, Punjab and elsewhere in the country, and will now use that 40 years of experience entirely for Delhi."