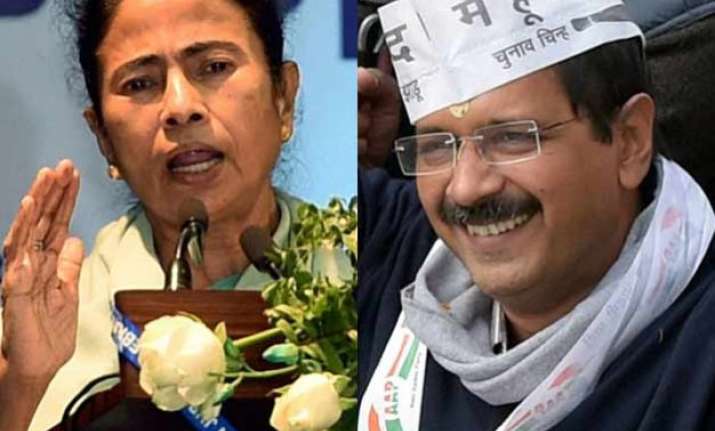 New Delhi: Bharatiya Janta party has taken a dig at the Delhi chief minister Arvind Kejriwal and her West Bengal chief minister Mamata Banerjee's planned dinner meet on Tuesday, terming them "anarchist chief ministers".
"When 2 anarchist CMs @ArvindKejriwal & @MamataOfficial meet over dinner, who can predict d outcome? May b God?" West Bengal's BJP leader Sidharth Nath Singh wrote on his twitter handle
 
Kejriwal will meet Banerjee at her Delhi residence today. Delhi government officials have described it as a "courtesy meeting".
The West Bengal chief minister had supported Kejriwal over the Aam Aadmi Party's tussle with the central government over a host of issues.
 
The BJP, which rules at the centre, has been at loggerheads with the two chief ministers, who have consistently attacked the central government for interfering with the rights of states.
 
Kejriwal's Aam Aadmi Party (AAP) is the BJP's principal rival in Delhi, and so is Banerjee's Trinamool Congress in West Bengal. The AAP routed the BJP in elections to the Delhi Assembly earlier this year while West Bengal will go to the polls next year.
 
Banerjee is in the capital to meet with Prime Minister Narendra Modi to discuss flood relief. That meeting with the PM will take place on Wednesday

"I will meet the PM on August 12 and place my demand for the state and request him to waive loans taken by the farmers," Banerjee told the media.
 
Chief Minsiter's visit to the national capital follows the central government's clearance of the second phase of the National Cyclone Risk Mitigation Project, which provides for sharing World Bank assistance of Rs. 2,361.35 crore among six states, including West Bengal.