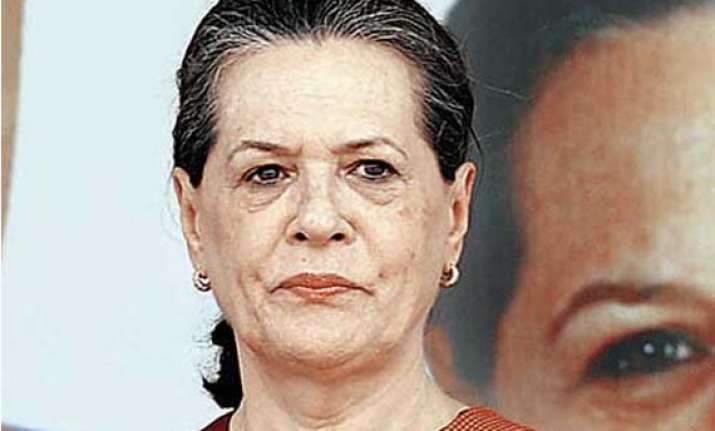 Kolhapur (Maha): Mounting an assault on BJP, Congress President Sonia Gandhi today asked the voters in Maharashtra not to be swayed by the party which "spreads hatred in society".
She also said BJP and Shiv Sena might have parted ways but in reality they are one.
"Their aim is to spread hatred in society. Don't get swayed by BJP, which changes masks," she said while addressing a poll rally at this pilgrimage town in western Maharashtra.  
Joining the campaign for October 15 Assembly poll just four days before electioneering ends, Sonia said, "Opportunist parties like BJP and Shiv Sena can do anything for power.
Read Also: Maharashtra polls: Congress and NCP are both 'bhrashtacharvaadi', says Narendra Modi
They may be look separate but in reality they are one." She said the Narendra Modi government was carrying forward schemes of the erstwhile UPA government despite BJP having ridiculed them earlier.
"They ridiculed schemes of Congress government but are going ahead with the same schemes," she said.  "Our opponents say they will take Maharashtra ahead of Gujarat.
In almost all sectors, Maharashtra is ahead of Gujarat," she said, attacking Modi over his claims about Gujarat model of development initiated by him as Chief Minister.
"When polls come, they (BJP) say big things but their reality is different. During Lok Sabha polls, they made tall promises. What happened to their promise of reducing inflation in 100 days? What happened?" she asked.  
She also questioned the Modi government over its handling of escalating ceasefire violations by Pakistan which have resulted in civilian casualties notwithstanding government's claim that it was responding tit-for-tat to the aggression.  "They had spoken of giving a befitting reply to Pakistan.
What happened?" she asked.
"They say those who didn't do anything in 60 years are asking to them give an account of 60 days in office. I ask you, why do you have apprehension in giving the account," she said.
The Congress leader also slammed Modi for invoking Maratha king Shivaji at his election rallies.  "They invoke Shivaji Maharaj during election but when our government planned a grand statue of Shivaji in the Arabian Sea, they opposed it," she said.
Sonia said Maharashtra had progressed under Congress which fought for women, farmers and the backward classes. "We made laws to empower them. In future too, we are committed to progress for all," she said.
Former Maharashtra Chief Minister Prithviraj Chavan was also present at the rally.  Sonia is scheduled to address another poll rally at Aurangabad later today.