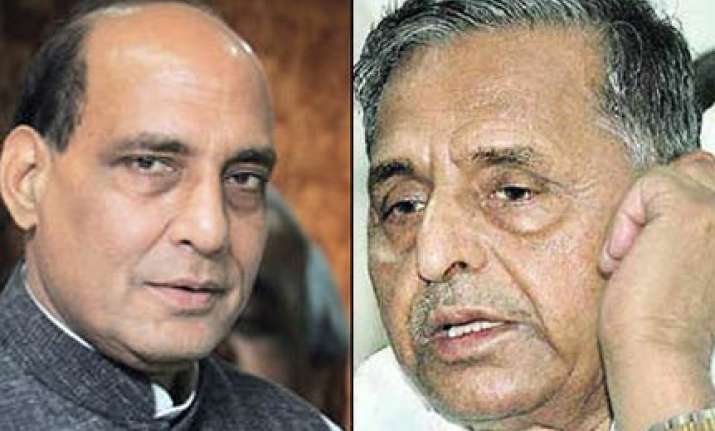 Even as the ruling BSP sailed smoothly riding high on its social engineering formula and won nine seats, opposition party including SP, Congress and BJP took a beating in the by-elections in Uttar Pradesh.
While the BJP candidates lost their security deposits at as many as eight places, including Firozabad, Congress nominees lost their deposit money at six and SP at five places in the bypolls, of which the results were announced yesterday.
In Firozabad, though BJP nominee Bhanu Pratap Singh was placed on the fourth place, he got only 9,269 votes, which was merely 1.18 per cent of the total votes polled.
The party suffered a major setback in Kolasla, where its candidate Ajay Singh not only lost his security deposit, but was placed seventh with 3,649 votes.
BJP had won Kolasla seat in 2007 assembly election, but later its MLA Ajay Rai drifted to SP and contested Lok Sabha election on the party ticket from Varanasi.
This time Rai won the seat as an independent for the fourth time in a row.
Other assembly seats, where BJP was drubbed badly included Powayan, Hainsar Bazar (reserved), Padrauna, Rari, Etawah and Lalitpur.
While in Rari, BJP candidate Samrath Singh Chauhan got only 3,841 votes, its candidate from Lalitpur Colonel Rajendra Singh Yadav polled 5399 votes, which was merely 2.67 per cent of the total votes polled.
The Congress, which won prestigious Lucknow (west) seat after a gap of 20 years along with Firozabad constituency, lost security deposit at as many as six places.
The major embarrassment came from Padrauna and Jhansi seats, which the party had won in the last assembly elections.
In Padrauna, Rani Mohini Devi, mother of Union Minister of State RPN Singh, though got 27,994 votes, but failed to save her deposit money.
This seat was represented by Singh himself, before he resigned after being elected to the Lok Sabha.
Similar was the situation in Jhansi, which was represented by Union Minister of State Pradeep Jain Aditya.
Here the party candidate Anil Batta alias Annu Bhaiya was placed on the fourth position with 21,645 votes.
"Batta was Jain's choice," party sources said.
Other places, where the party candidates lost their deposits included Kolasla Rari, Etawah and Lalitpur.
In Rari Congress nominee Abhishek Singh alias Ashu, who is son of senior party leader and former UPCC president Arun Kumar Singh Munna, got only 4,880 votes, which was merely 3.1 per cent of the total votes polled.
The SP, which was completely washed away, lost its deposits at five places. Of these two - Hainsar Bazar and Isauli -- were won by the party in the last assembly election.
SP candidate Chandra Bhadra Singh won Isauli seat in the last assembly election, but later defected to ruling BSP.
This time SP nominee Mani Bhadra Singh was placed on the third position with 16,939 votes.
Three other places where party candidates lost their deposits included Padrauna, Kolasla and Jhansi. The party also lost its stronghold Firozabad to Congress, where Mulayam Singh Yadav's daughter-in-law Dimple was defeated by Congress's Raj Babbar by a thumping margin of over 85,000 votes. PTI