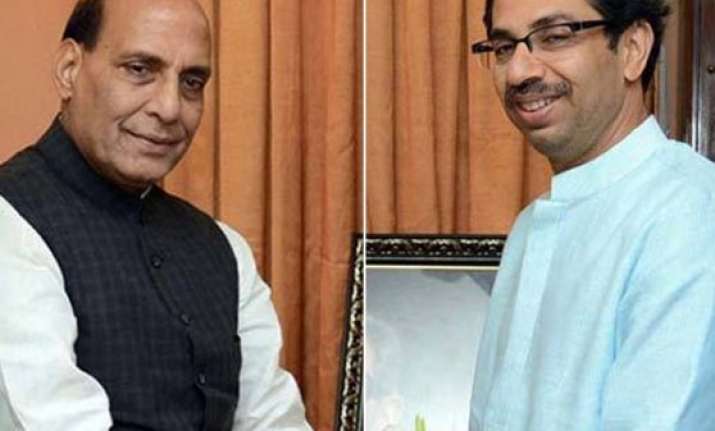 New Delhi: Shedding its initial reservations, the Bharatiya Janta Party (BJP) signaled it could do business with estranged ally Shiv Sena which sent two emissaries here for discussions with its leadership on government-formation in Maharashtra.
At the same time, BJP also appeared not to close the option of taking NCP's outside support in case a deal with Shiv Sena does not materialize. Shiv Sena, which had breathed fire against the BJP during the assembly poll campaign, has deputed two senior leaders for discussions with the BJP leadership, sources said.
Anil Desai, a Rajya Sabha member and Subhash Desai, another senior Sena leader, arrived in Delhi late on Tuesday night for discussions with the BJP leadership, sidelining its hardliner Sanjay Raut.
Apparently with an eye on the Shiv Sena, the BJP deferred the visit of Home Minister Rajnath Singh who was chosen as a central observer for election of the leader of the BJP Legislature Party in Mumbai.
He will now go to Mumbai after Diwali as back channel talks on the possibility of getting the Shiv Sena back on the BJP's terms continued, party sources said.
In the midst of hectic consultations on government- formation, senior BJP leader from Maharashtra Vilas Mungantiwar gave a new twist to the leadership race by favouring Union Minister Nitin Gadkari for the post of Chief Minister. That the party has not closed the doors for Shiv Sena was evident from the remarks made by Finance Minister Arun Jaitley and Om Mathur, the party's election incharge for Maharashtra.
Keeping all its options open, Jaitley referred to the congratulatory telephone calls made by Sena chief Uddhav Thackeray to Prime Minister Narendra Modi, BJP chief Amit Shah and some other leaders, saying that itself sends 'signals' (of possibility of tie-up).
"... We have two proposals on hand. Sena has been a natural ally, NCP has announced unconditional support... For BJP and Sena to become allies in the Maharashtra government could be a matter of course but if there is some difficulty that arises, you also have unconditional offer as far as NCP is concerned," he said.
Jaitley said that there have been "not much" talks with Sena so far but emphasised that the two parties are still together in the central government and the municipal corporation in Mumbai.
"Surely, in two out of the three tiers of government we are allies... the fact that we are congratulating each other itself is a signal," he said. BJP's Maharashtra election in-charge Om Prakash Mathur also made suggestions on the similar lines and said his party would be "happy" if "natural ally" Sena comes back.
"We think the party which has been with us for years...If the natural ally which was with us returns, we will be happy. But if it doesn't, then all options are open in politics," Mathur said.
The BJP has won 122 seats in the 288-member state Assembly, falling short of the majority mark by 23 seats. Sena has 63 seats while NCP has 41.