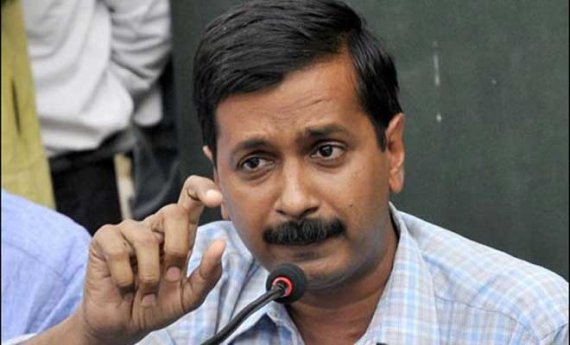 New Delhi: Aam Aadmi Party and Congress today accused BJP of running away from assembly elections in Delhi, soon after Election Commission announced bypolls for
three assembly constituencies in the city.
BJP, however, rejected the criticism. AAP and Congress said announcement of bypolls in Delhi clearly indicated that BJP was "scared" to dissolve the assembly and hold fresh elections. "BJP is running away from elections in Delhi. AAP is fully ready for the byelections.
"I am really really amazed that despite tall claims of 'Modi wave', why is BJP so scared of calling elections in Delhi?," AAP leader Arvind Kejriwal tweeted.
AAP and Congress have been demanding dissolution of Delhi assembly to pave the way for holding of fresh polls.
"My sources - BJP's internal survey shows that if Delhi elections were held today, AAP would get overwhelming majority," Kejriwal said. Delhi Congress Chief Spokesperson Mukesh Sharma said announcement of byelections "reflected" BJP's reluctance to hold fresh polls.
"The Home Ministry has not recommended dissolution of the assembly as BJP is reluctant to face election. If there has been a Modi-wave, then why the party ias shying away from facing the polls," Sharma said.
He reiterated Congress' demand of immediate dissolution of the assembly and said it will not allow BJP to form a government adopting unfair means.
"Elections must be held in Delhi immediately. There is no other option to end the political uncertainty," he said.
BJP, however, welcomed the announcement of by-elections. "The announcement of by-elections to three Assembly seats has proved BJP is ready to go to the people at appropriate time. The results of by-elections will decide which party is more popular in Delhi," Delhi BJP President Satish Upadhyay said.
Earlier, the Election Commission announced bypolls to three assembly constituencies in Delhi which fell vacant after BJP MLAs were elected to the Lok Sabha.
The three seats of the 70-member assembly fell vacant in May after sitting BJP legislators Harsh Vardhan, Pravesh Verma and Ramesh Bidhuri were elected to the Lok Sabha. Delhi is under President's Rule after the resignation of AAP government in February.
Lt Governor Najeeb Jung had not favoured dissolution of Delhi assembly as recommended by the council of ministers headed by Kejriwal and kept the assembly in suspended animation.
The Lt Governor had last month sent a report to President Pranab Mukherjee seeking permission to invite BJP to form a government in Delhi.
In the report, Jung gave a detailed analysis of the political situation and underlined the need to have an elected government in the city.
The Centre is yet to respond to the Lt Governor's letter.