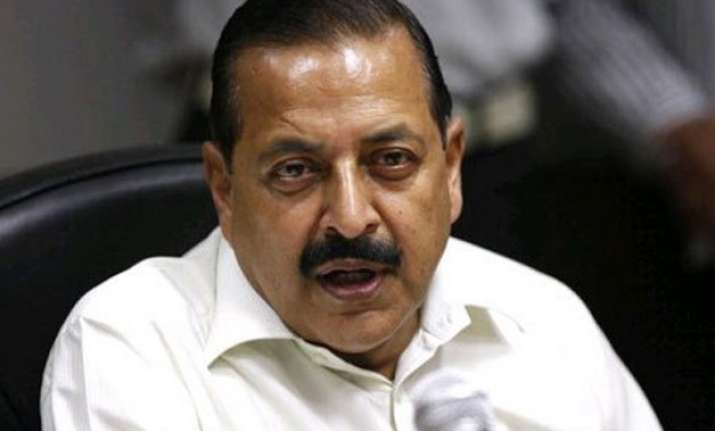 Katra: Asking the BJP leadership in Jammu and Kashmir to focus on fulfilling the expectations and aspirations of the people, Union Minister Jitendra Singh yesterday said instead of being apologetic about being in government with PDP, the party should treat it as a challenge.
"Instead of being apologetic, we should treat it as a challenge to meet and fulfil the expectations and aspirations of the people in Jammu and Kashmir," Singh said here today.
On the concluding day of the state working committee meeting, which was organised to placate the angry BJP leadership over the Masarat Alam issue, Singh said, "The BJP could not have shunned the responsibility of governance given its numbers in the Assembly."
Singh, while approving the political resolution, said that it represents the ethos and aspirations of the party and highlights the party's viewpoints on certain issues.
He said that with the ascendance of BJP at the Centre and in the state, a signal has gone that the party can do what was once considered to be a day-dream.
The Union Minister further said that rank and file of the party has, for the first time, savoured the impossible success and achieved recognition of its lifelong tryst.
He said that given the fractured mandate in the state where PDP swept the polls in the Valley and BJP in Jammu region, the coalition governance was the only way out to respect the verdict of the people.
Speaking to the meeting, Deputy Chief Minister Nirmal Singh recounted the history of the party and the great sacrifices made by its workers, general people and leaders like Dr Shyama Prasad Mookerjee and others, which has finally brought it in driver's seat of the government of the state.
"We should always keep in mind the great sacrifices made by our forefathers and do justice to the responsibilities that devolve on us," he added.
Referring to the various innovative administrative measures taken by the present day ministers, he said the governance of the coalition is going to dawn an era of transparent and people-friendly administration.
The Deputy Chief Minister appealed to all the party workers to forego the LPG subsidy, if it is within their means and said that public should also be motivated in the direction.