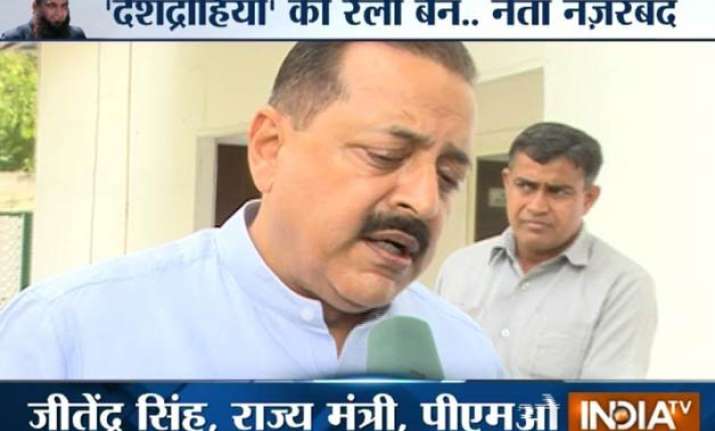 New Delhi: The Bharatiya Janata Party (BJP) today said it was no surprising that Kashmiri separatist leader Masarat Alam had been arrested.
"It's no surprise, the BJP's stand was clear that no anti-India activity will be permitted. And this is not a place where the Pakistani flags or pro-Pakistan slogans are going to be accepted," BJP spokesperson Nalin Kohli said.
"So it was imminent and if the arrest has happened, it is as per the process that should take place," he added.
Alam was arrested by Jammu and Kashmir police today morning from his house in Srinagar on charges of indulging in anti-national activities. 
Yesterday, Alam and  hardliner Syed Ali Shah Geelani were put under house arrest in Srinagar's Zaindar area. During Wednesday's rally, which was addressed by Geelani, Masarat had praised Lashker-e-Toiba (LeT) terror outfit chief Hafiz Mohammed Sayeed and asked people to join hands with his organisation. He had also raised pro-Pakistan slogans and Pakistani national flags were also waved at the rally.
When Union Minister Jitendra Singh was asked about the delay in taking action, he said, "Thes type of anti-national activities are a matter of concern for all of us... Central government, state government, all political parties and people as well. There was a delay and this could be avoided. From future, this delay in taking action against such activities should be curtailed."
"Law has taken its course. Government made it clear that it doesn't want anyone in country to indulge in anti-national act," Venkaiah Naidu said.
Meanwhile, Jammu and Kashmir Deputy CM Deputy CM Nirmal Singh said, "It is a clear cut message sent by Central and J&K coalition government. Such anti-India activities will not at all be tolerated."
PDP youth wing president Waheed-ur-Rehman Parra said that Alam was not arrested under pressure. "Nothing to do with politics, he has been arrested under due procedure, under due course of law," he said.
The Congress, on the other hand,  said that it wanted to know under what section the government has arrested Masarat.
"Want to know under what sections Alam and Geelani have been arrested. Have they been arrested for sedition or waging a war against the nation," Rajya Sabha MP Digvijay Singh said.
The arrest came hours before his planned rally in Pulwama district's Tral area where a youth was killed three-day ago.