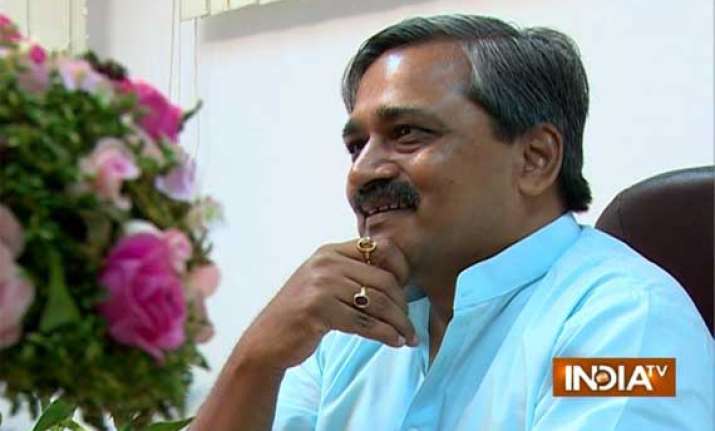 New Delhi: Amid stepped up political activity in the city, newly-appointed Delhi BJP chief Satish Upadhyay today said all major cases of alleged corruption and financial bunglings during Congress rule, including in Commonwealth Games projects, will be thoroughly probed if his party comes to power in the national capital.  
Asserting that there will be no witch hunt, Upadhyay said the city's image had suffered immensely because of the alleged scams and it will be the "responsibility" of the new government to probe them to punish the guilty.  
"Definitely," he replied to a query on whether BJP would order thorough investigations into cases of alleged corruption during the 15-year tenure of Congress government headed by Sheila Dikshit if it comes to power.
"It is a responsibility to probe the scams. Definitely we will probe the scams. There will be thorough investigation," he told PTI.
52-year old Upadhyay also indicated that there may be a review of Congress government's decision to trifurcate the Municipal Corporation of Delhi in 2012.  
In a meeting with Home Minister Rajnath Singh, Upadhyay today said then Chief Minister Sheila Dikshit had trifurcated the MCD without ensuring proper staff, financial viability and other administrative requirements.
BJP has already hinted that it was ready to form a government if invited by Lt Governor Najeeb Jung.  At the same time, the party maintains that it was "fully ready" to face fresh elections in Delhi.
Asked whether inquiry will be ordered against BJP-ruled MCD as a number of CWG projects implemented by the civic body were also investigated by CBI, he said the probe will include all the agencies against whom there were complaints of wrong doings.
The CAG, Shunglu Committee and CVC had found alleged financial irregularities in number of CWG projects implemented by Delhi Government.
The Shunglu Committee had found alleged procedural violations even by then chief minister Sheila Dikshit in executing projects related to the 2010 Games.
 The Delhi Government, however, had strongly rejected the findings.
Ahead of assembly polls in December last year, BJP had said it will set up an accountability commission to probe various alleged scams during Congress' 15 year rule.  
In February, the AAP government had ordered a probe into the alleged irregularities into procurement of street light which was a Commonwealth Games project in which Dikshit's role had come under the scanner.
On whether BJP would unite the three civic bodies— East, North and South Delhi Municipal Corporations, Upadhyay said a review may be carried out.
"It is a policy matter. One has to analyse everything, whether trifurcation was good or whether it was bad. There may be a review of the decision," he said.
In April 2012, Dikshit government had trifurcated the MCD, then considered one of the largest municipal bodies in the world, despite strong opposition from BJP, arguing that its split would ensure better governance.  
In May, two Mayors, both from BJP, have said that they prefer a unified civic body for Delhi over a trifurcated one.  North Delhi Municipal Corporation Mayor Yogender Chandolia and East Delhi Mayor Meenakshi had said they would impress upon party leadership for a united civic body.  
The trifurcation brought with it, concomitant issues and created conflict in resource allocations among the MCDs.  
BJP has been ruling the MCD for the last seven years.  Asked about the current political situation, Upadhyay said the party was "fully ready" for fresh elections.  
"The party is fully ready to go for fresh elections. If elections are held, we are confident of getting a clear mandate to rule Delhi," Upadhyay said.  Currently BJP, along with ally Akali Dal's lone MLA, has 29 legislators and will require the support of five more MLAs to prove majority in the assembly.
BJP insiders said at least five Congress MLAs have indicated that they are ready to form a separate group and support a BJP government.
To evade provision of anti-defection law, six Congress MLAs out eight will have to leave the party.  BJP had emerged the single largest party after the assembly polls in December last year with 32 seats including ally Akali Dal's one MLA in the 70-member House.  
BJP fell four seats short of a simple majority and had refused to form government in December last year, saying it did not have the numbers and will not resort to any "unfair means" to take the reins.
AAP with 28 MLAs had later formed the government with support of eight Congress MLAs.
BJP's number came down to 28 in the House in May after three of its legislators Harsh Vardhan, Ramesh Bidhuri and Pervesh Verma were elected to Lok Sabha.  With the resignation of three MLAs, the strength of the assembly also went down to 67.
President's rule was imposed in Delhi on February 17 after 49-day AAP government had resigned.  Lt Governor Najeeb Jung is likely to send a report to the Centre shortly on the political  situation in the city.