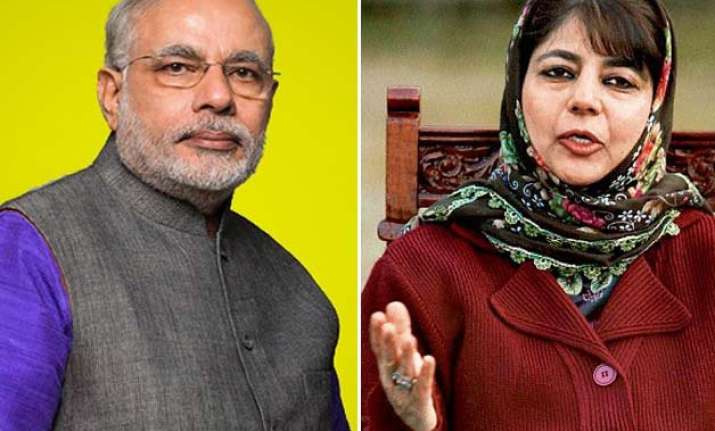 New Delhi: The Bharatiya Janata Party and the Jammu & Kashmir People's Democratic Party, two unlikeliest of allies, seem to have made up their minds to join hands in Muslim-dominated Kashmir despite serious concerns raised by sections of their own leaders and cadre workers.
 
That the talks are moving, slowly but surely, towards formation of a coalition government was evident from the fact that the two parties voted together in the recently concluded Rajya Sabha elections and are all set to join hands again in the upcoming elections for legislative council as well.
 
But how would this alliance impact their electoral fortunes in two distinct parts of the state – Jammu and Kashmir valley – that have voted differently in Assembly elections?
 
While Jammu voted overwhelmingly in favour of BJP this time, Kashmir valley rallied behind PDP while rejecting the National Conference.  And it has also been interpreted, and rightly so, that the electorate of Jammu voted massively against PDP,  which is seen as soft on terrorism, while the electorate in Kashmir valley voted against the BJP, which is being projected by the ulemas and hardliners, as a party that practises the politics of 'Hindu Majoritarianism'.
 
Under these circumstances and divergent sentiments, how will the BJP and PDP convince their support base in Jammu and Kashmir valley respectively? Will they not be taking calculated risk if they eventually form a coalition government in the state?
 
Since Jammu had voted for BJP and against the PDP, there is every possibility of BJP getting its support base eroded and eventually pave the way for the remergence of Congress in Jammu in the next elections.
 
Similarly, the Muslim-dominated electorate of Kashmir may find it difficult to digest the Mufti-led PDP's somersault on its electoral pledge of opposing BJP tooth and nail and it may result in the National Conference once again regaining its support base in the valley whenever next elections take place in the state.
 
Agreed that there are no permanent friends or foes in politics, but can leaders hoodwink their cadre and electorate so easily by compromising on core issues that they always flaunted as their USP?  
 
BJP and PDP, as everybody knows, are diametrically opposite to each other on ideological grounds especially those related to Jammu and Kashmir.
 
Let's have a look at three important areas of differences which the two parties consider as their core issues and have publicly refused to compromise with.
 
The biggest bone of contention is Article 370 of the Indian Constitution. While BJP stands for abrogation of Article 370, PDP wants the article not only to be retained but also to be further strengthened with greater autonomy given.
 
The BJP always reminded people that even the Constitution of India terms Article 370 as temporary and that it should be done away with as soon as possible in the best interest of national unity and integration.
 
In order to make inroads into Kashmir valley during the recent Assembly elections, the BJP had decided not to include this topic in their vision document but it was seen as a tactical move.  
 
PDP, as is widely known, believes that without this article, the very integration of Kashmir with the rest of India will be become questionable.
 
Obviously, the two parties will have to concede much political space to each other on this issue but any compromise on their stated positions will be seen as a betrayal by their respective electorates.
 
Similarly, while the PDP wants the Armed Forces Special Powers Act (AFSPA) to be completely withdrawn from the state; the BJP finds it essential for maintaining peace and tackling terrorists in the state.
 
Thirdly, the BJP wants the settlement of West Pakistan refugees in the state, while the PDP is dead against it as it fears the move will change the demographic profile of the state (read Muslims may become a minority).
 
The case of West Pakistani refugees is very interesting and moving.
 
The refugees from West Pakistan are largely Hindus and Sikhs who crossed over to India during the widespread communal riots during Partition and the wars of 1965 and 1971. The entire Hindu and Sikh population in Mirpur, now in Pak Occupied Kashmir, fled the area and came to Jammu, seeking refuge, even as hundreds of Hindus and Sikhs were killed and their womenfolk subjected to mass rape and torture. At that time, their representatives even went to Pandit Nehru and Mahatma Gandhi in 1947 pleading for protection and justice, but their cries went unheard.
 
Ultimately, these people were termed by bureaucrats in Jammu and Kashmir as 'West Pakistan Refugees" (WPR in brief). They have been reduced to second grade citizens in this country. They have been given very limited rights. They can vote in parliamentary elections but cannot cast their vote in Assembly elections. They can't buy any property in Jammu and Kashmir, as they are not considered as residents of the state.
 
They were not considered citizens of Jammu and Kashmir prior to Partition but given the fact that they are living in the state for the last 67 years they are now seeking full citizenship which, if looked at judiciously, is very much logical.
 
In view of such wide differences over what the two parties call contentious issues, the question now is: How can a BJP-PDP coalition govt work smoothly for six years even if it is formed?
 
PDP leaders have reportedly agreed to consider the WPR issue from humanitarian point of view, even though pro-Pakistan separatists like Yasin Malik and Syed Ali Shah Geelani have threatened fresh agitation if they are given citizenship rights.  
 
As far as Article 370 is concerned, both BJP and PDP know that nothing can be actually done on this front under present circumstances. Both the parties can afford to continue with the status quo and it may not evoke sharp reactions from their respective cadres. But the problem areas are AFSPA and WPR issues.   
 
Though the PDP has reportedly gone soft on West Pakistani refugees' issue, the question is: Will it go down well with its  core support base in Kashmir valley? Is the party not risking a backlash after instigating and propagating soft separatism all these years?
 
Similarly, the BJP is reported to be not averse to withdrawing AFSPA from the state provided the Army agrees to the same. But we have seen instances when Army has been arm-twisted to fall in line with the decisions taken by the governments of the day.
 
What needs to be understood is that AFSPA has not been imposed without any reason. No government will prefer to continue with AFSPA against its own people if things return to normal as in other states.
 
Suppose AFSPA is withdrawn under political pressure, then how will the Army act against separatists, given the lack of legal protection. What will the BJP say to its supporters in Jammu who have voted overwhelmingly for the party in the Assembly elections?  
 
Even the RSS has warned the BJP against compromising on Article 370 and AFSPA. Similarly, the rank and file of PDP has expressed its unwillingness to join hands with BJP. For the present, however, both parties have reportedly decided that the AFSPA will be withdrawn in a phased manner from regions not affected by terrorism. The PDP has outlined a one-year deadline for withdrawal of AFSPA.
 
Clearly, any decision taken in haste to form a coalition government has the danger of causing serious credibility crisis for both the parties. But, as they say, "coalition compulsions" may become the norm of the day.