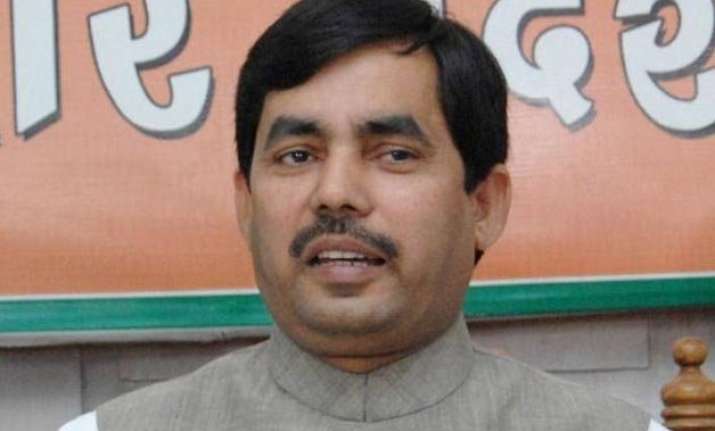 Motihari: Amid uncertainty over BJP's chief ministerial face in Bihar assembly polls due later this year, party National Spokesman Shahnawaz Hussain today said a decision on it will be taken by its Parliamentary board.
There are a number of leaders like Sushil Kumar Modi, Nandkishore Yadav, state unit BJP chief Mangal Pandey and some central ministers from Bihar who could be projected as the chief ministerial candidate, he told newspersons here.
However, the decision whether or not to project BJP's chief ministerial candidate for Bihar assembly polls rests entirely in the hands of the party's Parliamentary board comprising Prime Minister Narendra Modi and other top leaders.
He said more than projecting its chief ministerial face the immediate challenge before the party is to win the Bihar election for which the state and central units were working in close coordination.
"We will accomplish our party president Amit Shah's 'Bihar Mission' and win at least 185 seats out of the total 243 in Bihar in the assembly polls this year," Hussain said.
The BJP national spokesman claimed that the political mood in Bihar clearly favoured BJP to sweep the assembly polls with its allies as the people were disenchanted with the Nitish Kumar government being supported by RJD supremo Lalu Prasad.
Shahanwaz, a former Union minister in the Atal Bihari Vajpayee government, said the NDA government led by the Prime Minister Narendra Modi has dealt with issues like Land Acquisition Bill, black money and price rise in the "best possible manner in the interest of the country and its people."
On the Land Acquisition Bill being opposed by Congress and other opposition parties, he said the Centre will protect the farmers' interests and ensure that land acquired from them will be put to use for development.
"We will not let one inch of the farmers' (acquired) land to go to corporates," he said rubbishing Congress vice president Rahul Gandhi's charge in Parliament.
On black money issue, the BJP leader said unlike UPA government which sat over the file on setting up a special investigation team to unearth ill-gotten wealth stashed abroad the NDA government took no time in constituting an SIT and the panel was already at work.
It has also brought under control price rise and inflation much to relief of the common man, he said.
Referring to a series of natural calamities like cyclonic storm, unseasonal rains and earthquakes in recent times in the country, he said the Centre has raised the ex-gratia compensation to Rs 6 lakh from Rs 4 lakh given earlier to the victims' kin.