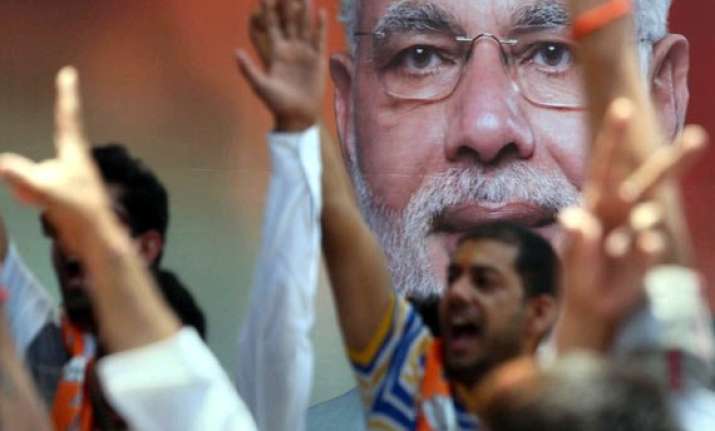 New Delhi: BJP workers shouted slogans, distributed sweets, danced to drum beats and burst crackers at the central office here Sunday following the party's performance in the Haryana and Maharashtra assembly polls.
The workers raised slogans like "Bharat Mata ki Jai (Hail Mother India)", "BJP ki Jai (Hail BJP)" and "Haryana-Maharashtra jeet gaya (we won Haryana, Maharashtra)" at the Bharatiya Janata Party's national headquarters on Ashoka Road in New Delhi area.
Some party workers broke into dance to express their joy. They distributed sweets and also burst crackers.
They were anticipating a good show by the party on the basis of the exit polls and started arriving early at the central office.
A band was also in attendance and it belted out popular musical tunes that made many to tap their feet and break into a jig.
A big screen was put up at the office for visitors and passersby to see the election trends and results as the counting of votes progressed both in Haryana, where the BJP emerged an absolute winner, and in Maharashtra where it became the single largest party in a hung assembly.
The workers said that celebrations will continue all through the evening.
They added that the party will now also form the government in Delhi which is under President's Rule and where elections to the assembly are due.
"We will form government in Delhi. The party will continue to emerge victorious in assembly polls in other states also," said Ashok Kumar, a party activist.
Many leaders from Haryana and Maharashtra also came to the office following the results.
Party general secretary J.P. Nadda joined the workers in the street-side celebrations.
Party leader Rajiv Pratap Rudy told IANS: "It is a historical win and people have shown their trust in us."
Delhi BJP president Satish Upadhyay described the outcome as "fantastic".
"It is a fantastic win. It is the policies of the (Narendra) Modi government which have brought about this win. The prime minister delivers on his promises and this is something the people have noticed," he told IANS.
The BJP is slated to form the government in Haryana on its own and has emerged as the single largest party in Maharashtra.