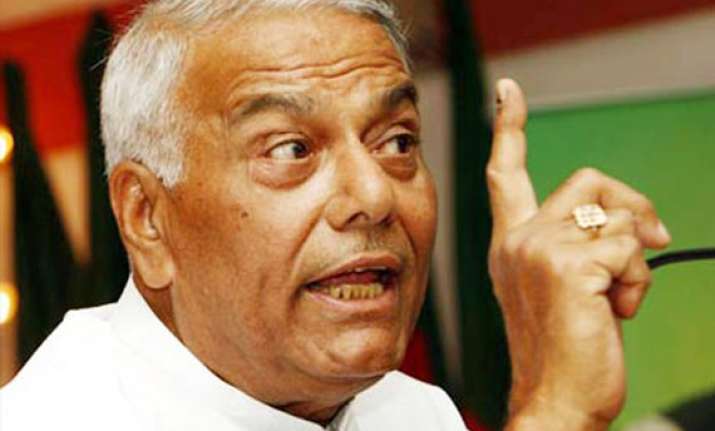 New Delhi: Lok Sabha MP Yashwant Sinha today expressed concern over the party not being aggressive enough towards the government in the Rajya Sabha unlike in the Lower House where the Opposition has not allowed the UPA to have its way on several issues.
According to sources, Sinha raised this issue at the weekly Parliamentary Party meeting and said BJP does not appear to be working in tandem in the two Houses.
He claimed that the party has pushed the government on the back-foot on several issues in the Lok Sabha while it is very cooperative in the Rajya Sabha, they said.
The Rajya Sabha has functioned on virtually on all days since the monsoon session began on August 5. It has passed the Companies Bill and other legislation and also held discussions on key issues. Though the Opposition cornered the government on the killing of five Indian soldiers by Pakistani forces and Defence Minister A K Antony's flip-flop on the issue, it has allowed discussions on other issues.
The Lok Sabha, on the other hand, has seen the government fire-fighting with the Opposition and has failed to even get the debate going on issues like the Food Security Bill which the government was hopeful of passing ahead of the Assembly elections in five states.
Leader of the Opposition in Lok Sabha Sushma Swaraj has also categorically told the government that it would not support the Insurance Bill and it should not bring it in this session. Other bills- like the Land Acquisition Bill- could not be taken up for discussion and passage despite being listed on several occasions in the day's list of business.
With elections just a few months away, there is a perception in a section of the BJP that the Opposition needs to be more aggressive with the government in Parliament and not allow it to have its way.
Sinha had apparently voiced this concern.
Leader of the Opposition in Rajya Sabha Arun Jaitley, however, countered this view and told Sinha that this perception is misplaced and BJP has put the government on the mat on several issues, the sources said.
The counter view has been that Opposition's aggressiveness in Rajya Sabha had forced Chairman Hamid Ansari to name 20 members for disrupting the House, make the "Federation of anarchists" remark and call an all-party meeting to ensure smooth functioning of the House.