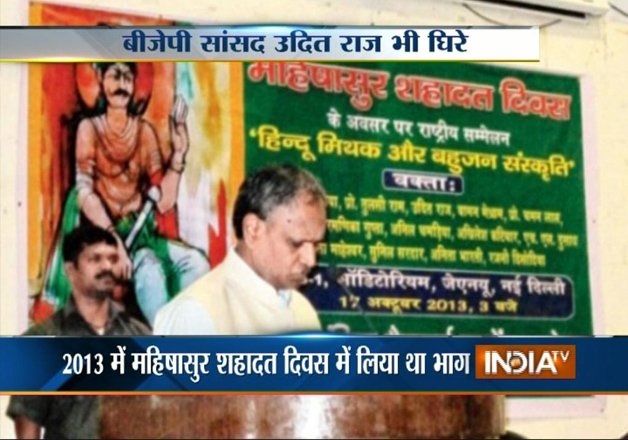 New Delhi: Amidst uproar over HRD Minister Smriti Irani's 'Mahishasur Martyrdom Day' reference in the Parliament, a photo has surfaced showing BJP MP Udit Raj taking part in the event that was organised at the JNU campus in October 2013. The North West Delhi MP was, however, not a BJP member in 2013.
The prominent dalit leader, while refuting the charges, said that in 2013 he had attended the event in full personal capacity and that since joining the saffron party he never took part in such program.
"What I did 5 yrs back is different. I did participate in that. I was an activist that time, I changed. Only fools and dead men don't change their views," he said.
"I have been to multiple events in 15 years all over the world, doesn't mean my views were identical to all the organisers," he added.
The festival has been observed on the campus every October since 2011 to debate caste issues as a tribute to 'demon' king Mahishasura.
Raj had joined the BJP in February 2014. He successfully contested the Lok Sabha elections in the same year from North West Delhi constituency.
The report is seen as a huge embarrassment for Irani who in the Parliament cornered by the Opposition over the recent incident in Jawaharlal Nehru University and University of Hyderabad.
While defending the government actions, Irani read out a document on Mahishasur Puja, referring to the demon slain by the Goddess Durga, which she said came from JNU.
As Irani read out a document on Mahishasur Puja in Rajya Sabha on Thursday, it created a huge uproar among the Opposition which alleged that attempts were being made to suppress dissent.
Irani, who was ballistic in the Lok Sabha on Wednesday, was comparatively mellowed down in the Rajya Sabha as she replied to questions raised on her performance as also that of the HRD Ministry under her.
Her reply to a short duration discussion, however, was cut short as the House was abruptly adjourned after uproar over her remarks in which she alleged that some elements in JNU had published derogatory pamphlets about Goddess Durga.
As she narrated the descriptive details of the pamphlets, Congress MP Anand Sharma took objection, saying it could set a precedent and in future somebody else could repeat it with regard to Gods of other religions.
Irani insisted with her reference, saying it was imperative to counter the charge levelled against her.