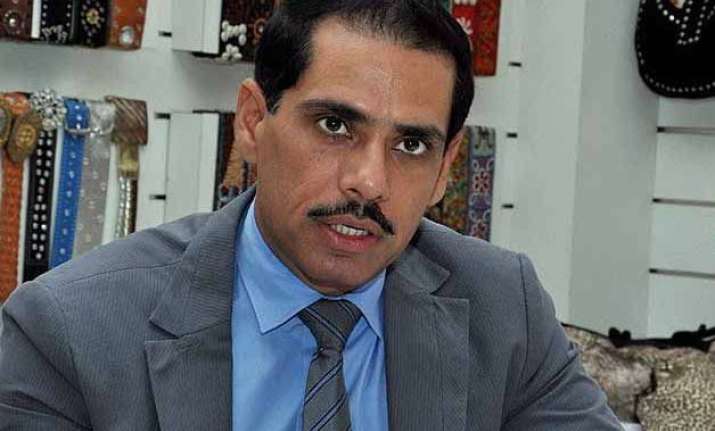 New Delhi: The ruling Bhartiya Janata Party today moved a privilege motion in the Lok Sabha against Robert Vadra, the son-in-law of Congress president Sonia Gandhi, who had criticised the functioning of Parliament in a Facebook post two days ago.
All hell broke loose today as soon as BJP member Prahlad Joshi referred to Facebook post of Vadra in the House which was already paralysed since yesterday because of opposition demands for resignation of External Affairs Minister Sushma Swaraj, Rajasthan Chief Minister Vasundhara Raje and Madhya Pradesh Chief Minister Shivraj Singh Chouhan over various controversies.
Joshi said Vadra had "demeaned" Parliamentarians and wanted that the issue be referred to the Privileges Committee of Parliament and he be brought before the House.
His remark angered Sonia Gandhi who rose to protest strongly, leading her party members who intensified their slogan-shouting against the government.
Joshi's remarks added fuel to the fire as the Congress members had already stormed the Well of the House, continuing with their demands for resignation of Swaraj and Raje in connection with Lalit Modi controversy and that of Chouhan over Vyapam scam. "No resignation, no discussion", they kept shouting.
Amid the din, Leader of Congress in the House Mallikarjun Kharge went to Speaker Sumitra Mahajan to say that Joshi's remarks should be immediately expunged as Vadra is not a member of the House.
Vadra, in the Facebook post, had taken a dig at the NDA government without naming it before the Monsoon session began on July 21. "Parliament begins and so do their petty diversionary political tactics... People of India are not fooled. Regret to seeIndia led by such so-called leaders !!,"  Vadra had said in his post.
The din created by the war of slogan-shouting forced the Speaker to adjourn the House for the day, minutes past noon.
Earlier also, the House was adjourned immediately after it met at 11 AM. Earlier, Mahajan repeatedly appealed to the members, who were in the Well, to go back to their seats and not show placards.
Failure to do so would mean that they are not interested, the Speaker added.
The BJP members too protested standing in the isle and by showing placards which read: 'Congress ki raaj jahan, ghotala ki baandh waha (Wherever there is a Congress
government, there is flood of corruption), 'Ulta chor kotwal ko dante' (Pot calling kettle black).
They were demanding probe into the alleged corruption in Assam and Goa.
Finance Minister Arun Jaitley was seen asking the BJP members not to go into the well.
Later, Jaitley and Minister of State for Parliamentary Affairs Rajiv Pratap Rudy persuaded BJP members to return to their seats.