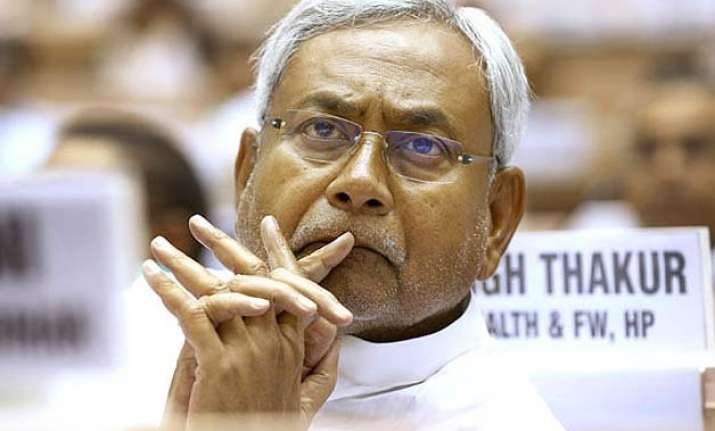 Patna: In a major setback to RJD-JD(U)-Congress alliance, the BJP-led NDA alliance  has won 13 out of 24 seats in Bihar Legislative Council elections.
RJD-JD(U)-Congress alliance could manage to win just 10 seats.
An independent candidate Ritlal Yadav has won the prestigious Patna seat. Yadav is in Beur jail as on the charges of murder and kidnapping amongst others. The BJP has expressed happiness over the results.
Thanking the people of the state for handing them over a landslide victory, BJP leader Sushil Kumar Modi said, "  We have won the semi-final. We are confident of winning the final (Bihar Assembly elections) as well."
The polling had taken place for 24 seats of the Legislative Council from local bodies on July 7 last.
     
The biennial election to the Bihar Legislative Council from local authorities is considered as semi-final before crucial Assembly poll in September-October this year.
The Council poll is the first test of coming together of old rivals Nitish Kumar and Lalu Prasad to take on a resurging BJP. After days of haggling, Lalu Prasad had accepted Nitish Kumar as secular alliance candidate for Chief Ministership mainly due to Congress tilt towards Kumar.Ruling JD(U) has won from CM's native Nalanda and Muzaffarpur.
BJP has won from Lalu Prasad's native Saran district from where saffron party Sachidanand Singh defeated JD(U) candidate and presently Deputy Chairman of Council Salim Parvez by a handsome margin of over 900 votes.
In Darbhanga, sitting RJD MLC Misrilal Yadav lost to BJP's Sunil Singh.Of the 24 Legislative Council seats, 13 were with JD(U), BJP 5, RJD 3 and Independent 3.
As per seat-sharing arrangements in Secular alliance, JD(U) and RJD fielded candidates on 10 seats each while Congress put up its nominees at three places and NCP one.
In the NDA camp, BJP had fielded candidates at 18 places, LJP of Union minister Ramvilas Paswan 4 and Rashtriya Lok Samata Party (RLSP) of Union minister of State Upendra Kushwaha at two.