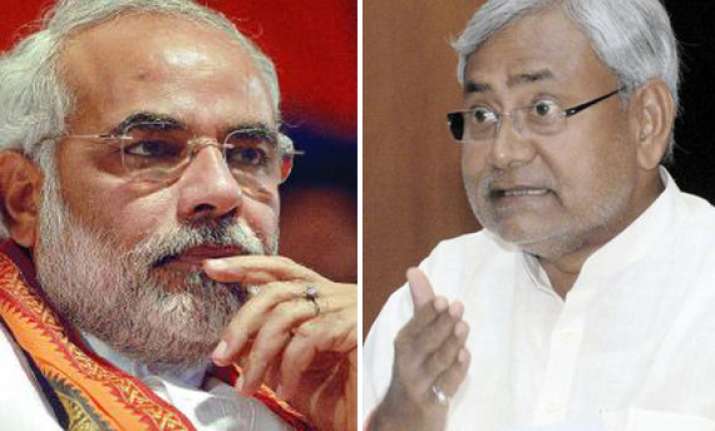 New Delhi, Jun 20: Rift in the NDA over Narendra Modi widened today with the JD(U) threatening to walk out of the alliance if a "fanatic face" is projected as NDA's Prime Ministerial candidate.
Hitting back, BJP asserted that no one can give a fatwa on who is secular and joining the issue, RSS chief Mohan Bhagwat wondered why a 'Hinduwadi' should not become the Prime Minister.
After Bihar Chief Minister Nitish Kumar's strong pitch for a "secular" Prime Ministerial candidate for NDA in the 2014 Lok Sabha elections, his party general secretary Shivanand Tiwari took the anti-Modi tone in JD-U to a new decibel.
NDA cannot come to power with a "fanatic face" and JD-U will not compromise on principles on which it had joined the Opposition alliance in 1996, Tiwari told reporters here.  
He said that surveys indicate that had the former Prime Minister Atal Behari Vajpayee dismissed Modi government in Gujarat for the post-Godhara riots in 2002, NDA would have still been in power and not lost the 2004 general elections.  
"People who voted for BJP due to liberal face of Vajpayee went away from it after Gujarat riots and the floating votes went to Congress because people do not accept fanatic politics.
"Those people in BJP who want the party to come to power will have to realise that they cannot do it by putting a fanatic face in the front," Tiwari said in an apparent reference to Modi.
He said history tells that whenever India has been ruled by secular forces, it has developed and whenever fascist forces have taken over, it has suffered. He gave the examples of Akbar and Ashoka on the one hand and Aurangzeb on the other.
Reacting to Tiwari's statement, BJP leader Balbir Punj said, "This is a needless controversy. Nobody has a right in this country to give fatwa as to who is secular and who is not. People have their opinions."
Bhagwat was unsparing in his criticism of the Bihar Chief Minister, saying his remarks reflected "political opportunism".
"Nitish Kumar has said NDA's Prime Ministerial candidate for 2014 elections should be secular. This shows political opportunism. He has made the statement so that his vote bank remains intact," he told a meeting of RSS volunteers in Latur in Maharashtra.
According to those present in the meeting which was out of bounds for the media, Bhagwat also described Hinduism as an "all-inclusive" religion and wondered why a Hinduwadi should not become the Prime Minister.  
"Hinduism is the religion of humanism. You are right and we are also right, Hinduism follows this broad philosophy," he was quoted as having said.  To keep alive the Hindu ideology, the Hindu 'samaj' should come together and the country should have a prime minister who believes in that ideology or propounds that view, he stressed.
In Delhi, RSS spokesperson Ram Madhav said Hindutva is the "true synonym" for secularism and is liberal as it embraces all other religions.
"To portray it (Hindutva) as anti-secular is not correct and narrow-minded. Hindutva is the true synonym for secularism... We have always felt that Hindutva is the ideological anchor of RSS and it is liberal, all embracing and a secular idea," he said.
The JD(U) recalled that while Vajpayee had asked Modi to follow the 'Raj Dharma' and wanted the government to go in the wake of the 2002 Gujarat riots, the move was "vetoed" by BJP leaders like L K Advani.
Tiwari said JD (U) will not compromise on the secular framework based on which it had become a part of NDA, maintaining, "We will not compromise whether our government remains in Bihar or not."