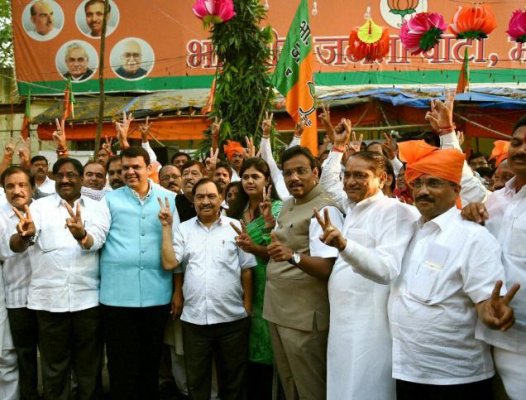 New Delhi:  Describing the Shiv Sena as a "natural ally", the BJP on Tuesday dropped hints that it would prefer the estranged saffron party to be a partner in its government in Maharashtra even while the NCP's unconditional support continues to be on offer.
As speculation continued over government formation in the State, Union Minister and senior party leader Arun Jaitley referred to the congratulatory telephone calls made by Sena chief Uddhav Thackeray to Prime Minister Narendra Modi, BJP president Amit Shah and some other leaders, saying it is a "signal" (of possibility of alliance).
"... We have two proposals at hand. Sena has been a natural ally, NCP has announced unconditional support... For BJP and Sena to become allies in the Maharashtra government could be a matter of course but if there is some difficulty that arises you also have unconditional offer as far as NCP is concerned," he told a news channel in an interview.
Mr. Jaitley said there have been "not much" talks with the Sena so far but emphasised that the two parties are still together at central level as well as municipal level in Mumbai.
"Surely, in two out of the three tiers of government we are allies... the fact that we are congratulating each other itself is a signal," he said.
He said things will be clear in a few days.
The BJP has won 122 seats in the 288-member State Assembly, falling short of the majority mark by 23 seats. Sena has 63 seats while NCP has 41.
Asked if he was ruling out an alliance with Sharad Pawar-led NCP, Mr. Jaitley said, "Nothing is ever ruled out in politics".
He went on to add in a lighter vein, "We are in a swayamvar situation and therefore we have to decide at an appropriate stage after a dialogue has taken place."