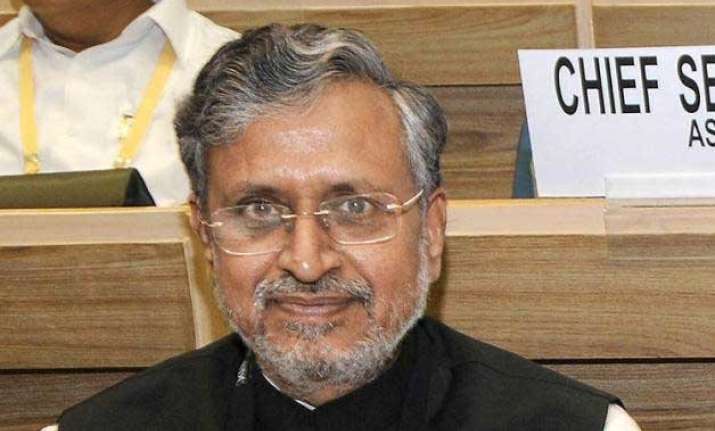 Patna: Amid talks of the merger of old Janata Parivar splinter parties, BJP today expressed doubt over the unification and hinted at siding with Chief Minister Jitan Ram Manjhi in the power tussle with Nitish Kumar.  "The contradictory assertion of senior leaders in the last one week is enough to say the merger is not possible," senior BJP leader Sushil Kumar Modi told reporters.
Modi was hinting at assertions of JD(U) President Sharad Yadav on January 13 that initially RJD and JD(U) might merge in view of the Bihar Assembly elections and rest would follow in time.
But, RJD supremo Lalu Prasad had shot it down saying it would be a merger of all six parties and not only two.  Even as leaders of JD(U), RJD, INLD, SP and SJP mingled with each other and attended Makar Sankranti feasts of state JD(U) President Basistha Narayan Singh as well as Lalu Prasad yesterday, there was no announcement of merger as expected.
Sushil Modi, who served as deputy chief minister in the NDA rule, claimed 90 per cent of leaders and workers of JD(U)were not in favour of the merger out of fear that Lalu Prasad would have a dominant presence in the combined party.  
ALSO WATCH:
"Earth has slipped under the feet of Nitish Kumar who has been reduced to a minnow by Lalu Prasad," the senior BJP leader said at the Makar Sankranti feast hosted by him.  Pointing to the power tussle between Nitish Kumar and Chief Minister Jitan Ram Manjhi, the senior BJP leader spoke in favour of the latter.
On a question that would BJP support Manjhi in case Nitish Kumar toppled him, Sushil Modi said "All options are open."
"Jitan Manjhi has served as a minister in the governments of Congress, RJD and now JD(U)... he can be a minister in the BJP government as well," Modi, flanked by state party President Mangal Pandey, said.
Sushil Modi favoured Manjhi to continue as caretaker Chief Minister till Assembly elections later this year in case he was removed earlier.
"We do not want Assembly polls to take place under President's rule, but Manjhi as caretaker in case he is forced to demit office by the Nitish camp," the BJP leader said.
He said in the "chuha billi" (cat and mouse) game, governance in the state had been a major casualty.
"The state cabinet is a divided house with some ministers close to Nitish Kumar busy in removing Manjhi, while others rallying behind the Chief Minister to foil the bid," Modi claimed.
He also pointed towards assertions of Bihar Rural Development Minister Shrawan Kumar that Bihar was not invited at the meeting of eight states on road sector at Raipur recently.
"Union Surface Transport Minister Nitin Gadkari told me the Centre had sent invitation to Chief Minister Jitan Ram Manjhi and Road Construction Department Minister Rajiv Ranjan Singh Lallan, which Shrawan Kumar is not aware of.
"It seems there is no coordination in the state cabinet and this is why ministers are speaking in conflicting voices," he said.
Asked if BJP was apprehensive of the merger of JD(U) and RJD before the Bihar Assembly polls, Sushil Modi answered in the negative.
"We will rather invite the merger as it will be convenient for us to tell the people about 15 years of misrule of RJD under Lalu Prasad," he said.
BJP has already chosen a slogan of "Jungle Raj II" to flay joining of hands between Lalu Prasad and Nitish Kumar.
On NDA affairs in the state, Modi said BJP, LJP and Rashtriya Lok Samata Party (RLSP), which were part of the Union government, would fight the elections together.
Asked if there was any talk on seat sharing between them, he said "Bihar election is still seven months away. We will reach an agreement easily," adding that Prime Minister Narendra Modi would be the face of the party in the polls.