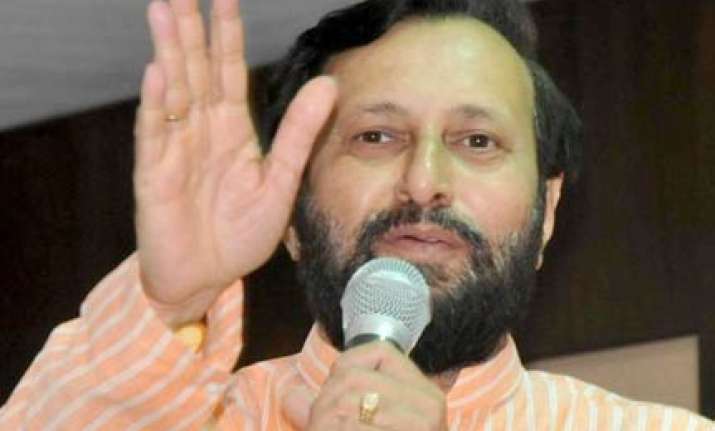 BJP on Tuesday  alleged that filmstar Amitabh Bachchan was being targeted by Congress as he is brand ambassador of Gujarat but said the question of his joining the party did not arise. "Amitabh Bachchan has become brand ambassador of Gujarat and not of Pakistan. He is an artiste and not Dawood (Ibrahim)," BJP spokesperson Prakash Javadekar said. 
The BJP MP alleged that Congress leaders were harassing Bachchan as he was brand ambassador of a BJP-ruled state and has fallen out with the first family of the ruling party. "And why was Abhishek Bachchan troubled (by the Delhi government)? This is not Gujarat," Javadekar said. Abhishek's message for Earth Hour was blacked out allegedly by the Delhi government. 
"This is an insult of democracy, of the federal structure and worst force of vendetta politics," the BJP leader said, adding that he had never seen such "individualistic and cheap politics". However, when asked if the doors of BJP were open for Amitabh Bachchan, Javadekar said, "Where did this question arise?" 
Party sources asserted that since Bachchan Sr is not interested in entering politics there has been no discussion on the issue. 
Javadekar maintained that Amitabh Bachchan was a brand ambassador for several things and even when he was close to Congress leader Rajiv Gandhi, nobody had any objections. "The issue now is that Congress is now boycotting a person. This is personal vendetta. We condemn the Congress attitude," he said. PTI